Cameron: G8 to stamp out ransom payments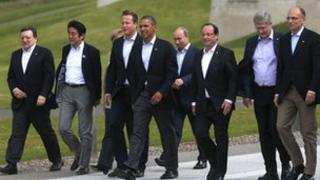 Leaders at the G8 summit have agreed to "stamp out" ransom payments to terrorist groups, UK Prime Minister David Cameron has announced.
Up to $70m (£45m) is estimated to have been paid to free Western hostages in the last three years - an average of $2.5m (£1.9m) for each captive.
Downing Street said a "very strong" declaration was expected.
Mr Cameron called on private firms to follow the G8's example and refuse to pay ransoms to kidnappers.
Much of the money handed over is thought to go to terror groups including al-Qaeda and its affiliates, and the Taliban.
'Clear message'
The UK outlaws such payments but other countries - such as France, Italy and Japan - have reportedly continued to meet some demands.
Mr Cameron, hosting the two-day G8 summit at Lough Erne, County Fermanagh, tweeted: "Another #G8UK result: leaders agree to stamp out ransom payments to terrorists, calling on companies to follow lead."
The prime minister's official spokesman added that a "very strong" declaration was expected.
He said: "It will be around the G8 governments not paying ransoms to terrorist organisations and a commitment to work with businesses and other groups in each country, with the objective of suffocating terrorist sources of financing,
"It is not only G8 countries, but all G8 countries have been affected by terrorism and terror-related incidents over the last 12 months. The G8 sending this very clear unambiguous message is important."
The announcement comes after the International Maritime Bureau said piracy - including hostage-taking - on the West Coast of Africa, had overtaken the level experienced off Somalia, on Africa's east coast.
But it added that at least 78 people were still being held captive by Somali pirates.
G8 leaders are also discussing the crisis in Syria and plans to reform global taxation.