David Cameron on Syria: We reserve right to act without vote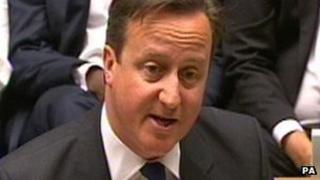 David Cameron has told MPs that the government will reserve the right to arm rebels in Syria without holding a vote in the House of Commons.
He said it was essential to keep the "ability to take action very swiftly".
The prime minister also said Russia now agreed it was "necessary" and "right" that President Assad must be ousted before peace could be achieved.
Speaker John Bercow has said MPs will get a vote before any decision on arming rebels is implemented.
An estimated 83,000 people have died since fighting began in Syria in early 2011.
More than 80 Conservative MPs have signed a letter calling for a full Commons vote before any decision to take action against the Assad government.
'Democratic'
Asked about this demand, Mr Cameron said: "You are absolutely right to make the point that we make a big commitment to come to this House and explain, vote and all the rest of it, but obviously governments have to reserve the ability to take action very swiftly on this or on other issues."
This appeared to contradict comments made on Tuesday by Mr Bercow after Foreign Secretary William Hague faced similar questions,
Mr Bercow told MPs: "I must say that I have the sense that the government is hinting that it wouldn't dream of executing a policy decision of the kind that is being considered without first seeking a debate in the House and a vote on a substantive motion.
"That would obviously be the democratic course. I think it is the democratic course on a substantive motion that the government has in mind.
"I am not sure that there was any other idea ever in their minds but I feel sure that if it was in their minds it was speedily expunged from them as undemocratic and indeed inappropriate."
Mr Hague was seen to be nodding, indicating that he agreed with the comments.
'Clear view'
The situation in Syria was discussed at the G8 meeting of industrialised nations on Monday and Tuesday in Northern Ireland.
The UK and other members disagree with Russia, which regards Assad as the country's legitimate ruler.
But Mr Cameron, briefing MPs on the G8, suggested President Vladimir Putin had changed his mind on Assad's future.
He said: "What we're insisting is that a proper conference is going to have to include representatives of the regime and representatives of the opposition, and it should lead to a transitional government.
"Now we have - this government has - a very clear view that neither of those stages can involve President Assad for the reasons that we have given, but that shouldn't stand in the way of the transition that is necessary, and that frankly the G8 - the Russians included - believe is right."
Former Liberal Democrat leader Sir Menzies Campbell said that, if this were to be confirmed by Russia, it would be "a very substantial step forward, if not a breakthrough, and it merely emphasises the importance of continuing with dialogue and discussion with Russia, which has such an important part to play in the solution that we all see".
Conservative Sir Peter Tapsell, who is the Father of the House, and former Labour cabinet minister Peter Hain cast doubt on the need to remove Assad before progress can be achieved.
'Caution'
Sir Peter urged Mr Cameron "not to propagate the myth that progress can only be made either by the killing or the removal, in some way of President Assad", adding that the Syrian presidency was "something of a family business".
Mr Hain said: "In a search for a political solution, can I just caution him in his apparent insistence on a precondition. Northern Ireland shows preconditions do not work."
The G8 summit at Lough Erne, County Fermanagh, ended with a communique stating that the conflict in Syria should end "as soon as possible", with peace talks in Geneva.
Resistance from President Putin meant there was no explicit reference to ending the rule of Assad.
Instead, the document said a transitional government should be formed "by mutual consent" among the warring sides.
It also included a commitment to keeping the troubled country's military and security forces in tact to avoid a power vacuum should Assad go.
Labour has accused the government of adopting an overly aggressive stance towards Russia over Syria, which it argues has been counter-productive.