Prisoner voting: MPs seek compromise on ban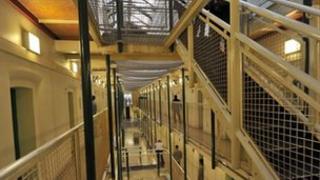 Parliament will never back votes for all prisoners so a compromise will have to be found to comply with European law, a senior MP has said.
Nick Gibb is chairman of the committee set up to resolve the issue of whether inmates of British prisons should be allowed to take part in elections.
Under current UK law, only prisoners on remand are entitled to vote.
But the government has been ordered by the European Court of Human Rights to end the ban.
Parliament has been presented with three options: giving the vote to convicted prisoners serving up to six months, giving it to those serving up to four years or keeping the existing blanket ban.
At the first hearing of the joint committee of MPs and peers to consider the Draft Voting Eligibility (Prisoners) Bill, Tory MP and former minister Mr Gibb said "we are not going to be getting a consensus on this committee" for ending the blanket ban.
'Tabloid pandering'
Lib Dem MP Lorely Burt, a former prison governor, agreed that the cross-party committee was unlikely to back votes for all prisoners but suggested the right to vote should be linked to rehabilitation.
Juliet Lyon, director of the Prison Reform Trust, warned the government would be hit with a flood of compensation claims from prisoners denied the vote at the 2010 general election if the government opted to continue defying the Strasbourg court.
She said there were currently 2,500 potential compensation cases if the government decided to keep the ban.
She warned the MPs not to go down the route of some US states, where there was "an army of people who no longer vote".
Prisoners should be denied the vote only if they had been jailed for electoral fraud, she said, accusing MPs of pandering to "tabloid newspapers" on the issue.
She conceded that very few prisoners wanted to vote in elections, but argued that stripping them of the right further separated them from normal society and made reintegration more difficult.
Mr Gibb said MPs were not "governed by the tabloids" but were merely reflecting the views of the public - although the committee agreed that little opinion polling had been done on the issue.
He pointed out that all but 22 MPs had voted to continue defying the Strasbourg court ruling. He said the committee planned to visit a prison to speak to inmates about the issue.
Attorney General Dominic Grieve has said that the government would not be breaking the law by continuing to defy the ban but the question for ministers was whether the UK wished to be in breach of its international obligations.