Bank governor to be made Lord King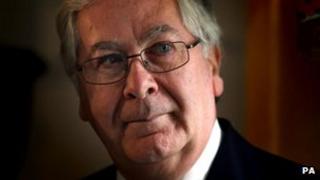 Retiring Bank of England governor Sir Mervyn King is to be made a peer.
Chancellor George Osborne confirmed the news in his Mansion House speech on Wednesday night, as Sir Mervyn prepared for his final speech at the event.
David Cameron has nominated him for a life peerage for his public service, Downing Street confirmed.
Sir Mervyn was praised by Mr Osborne for helping "to lead our country through an extraordinary period" in his 10 years as governor.
"More than that, you have been the original thinker who has taken Britain on the journey that began with inflation targeting to monetary independence and now to far reaching reforms to prudential regulation and financial oversight," the chancellor said.
"I can think of few people who have done more to shape our public discourse in the last 30 years and you have done so with integrity, intelligence and patriotism and also with a seemingly endless supply of sporting metaphors."
'Ruthless truth telling'
Sir Mervyn joined the Bank of England as its chief economist in 1991 and became its deputy governor from 1998 to 2003, when he took over the top job. He will be replaced as governor by Canadian Mark Carney in July.
He told the audience of bankers: "I am truly honoured to have the opportunity to continue my public service in the Lords."
He added: "Chancellor, I know you will be comforted and relieved that I consider the role of members of the House of Lords to be, as Keynes put it, ruthless truth-telling."
In a BBC interview last year, Sir Mervyn rejected criticism that under his watch, the Bank of England had missed the biggest financial crisis for decades and should have done more about bank regulation.