Fixed-term Parliaments 'difficult to reverse', MPs told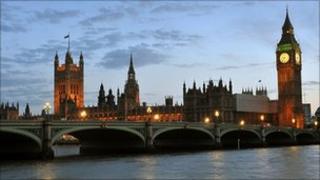 A future prime minister would find it difficult to reverse the move to fixed-term Parliaments and would need a "good reason" to do so, MPs have been told.
Government expert Peter Riddell said a fixed five-year gap between polls, to start in 2015, was liked in Whitehall and would reduce media speculation.
But he told a Commons committee aspects of the new arrangement were "untested".
Labour's Graham Allen said allowing the PM to set an election date himself now seemed "quaint and quite dangerous".
In the past, the prime minister of the day was able to choose when to call a general election, often selecting the date which gave his party the best chance of victory.
In the past 30 years, elections have been held on either four-year or five-year cycles but in 2011, Parliament passed a law fixing the date of future elections every five years, starting on 7 May 2015.
'On a whim'
Ministers argued the move would bring greater certainty to the first coalition government for nearly 70 years and hand responsibility for the decision from the executive to Parliament.
A poll could still be triggered before the end of a five-year term if a motion of no confidence was passed in the government and no alternative administration could be formed, or if at least two-thirds of MPs approved calls for an early election.
Mr Riddell, director of the Institute of Government, told the Commons Political Reform Committee that he believed the fixed-term policy was likely to be retained by future governments as it was not something that could be changed "on a whim".
"It would be quite difficult to say we want to change it and they would have to find a good reason to do so," he said.
"They could not say I am the new prime minister, we have a majority of 60, and I want to have the flexibility."
He said the old system was not as "unpredictable" as some people claimed - with governments expecting to win "absolutely invariably" holding elections every four years and those fearing they would lose holding out for another 12 months.
'After 2015'
But knowing the date of the next election had helped create "greater certainty" for government in its planning and reduced press speculation about a future poll date which could "impinge" on the workings of government and business confidence.
But he said there was still uncertainty about what would happen if one of the partners decided to withdraw from the current coalition or a future similar arrangement and whether one party could form a new arrangement or govern as a minority.
"We are in a new era but it is an untested era. We don't know how it is going to work out."
And although the civil service liked the five-year period because "it gives them the time to see new policies introduced and to see how they are working out", he said it was longer than in many countries and expected calls for it to be reduced to four.
Mr Riddell, a former political editor of the Times, said he also expected there to be confusion in the final year of the current Parliament about important decisions due to be taken after 2015 and as parties prepared to campaign against one another.
He described the current spending review for the 2015-6 period as largely a "fiction" and an exercise in politicians "staking out their positions for the future".
"There is a real danger that come 2015, people will say 'OK what now'," he added. "It will be messy, I'm afraid".
Also giving evidence to the committee, Cabinet Office minister Chloe Smith said having a fixed-term had had a "positive change" on the conduct of government, particularly in terms of how ministers mapped out their legislative agenda.
Asked by her Conservative committee member Eleanor Laing whether future governments would maintain the policy, Ms Smith said it was the "will of Parliament and ought to endure".