Apprentice star Karren Brady: I want to enter politics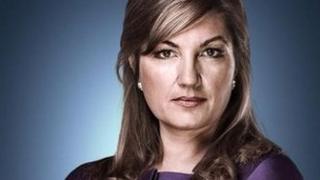 The Apprentice star Karren Brady has revealed that she wants to get involved in politics but would "never accept a safe seat in Parliament".
Ms Brady, the multi-millionaire vice-chairman of West Ham United Football Club, is often touted as a future Conservative MP, and even leader.
But she told the Daily Telegraph that "being fast-tracked is not something that appeals to me".
Her Apprentice co-stars Lord Sugar and Nick Hewer are Labour supporters.
Ms Brady, who became director of Birmingham City Football Club aged 23, has been one of Lord Sugar's advisers on BBC One's The Apprentice since 2010.
'Hard slog'
She told the Telegraph: "I love politics. I love Britain. I want to get involved."
Ms Brady has been complimentary about David Cameron but, asked about a possible route into Parliament, she said: "I would never accept a safe seat. I would always want a difficult seat. Being fast-tracked is not something that appeals to me."
Earlier this month, Liberal Democrat Business Secretary Vince Cable criticised The Apprentice, arguing that, with its weekly climax in a boardroom sacking, it gave "a completely false impression about what being an apprentice actually involves".
However, Ms Brady argued this demonstrated the "real pressure" and "hard slog" needed to succeed in business.
She added that there were too many politicians who "theorise about business".
"You need people who are right at the cutting edge. I wish a lot more business people did get into politics. We'd be in a much better place now," she said.