Spending Review: Osborne draws election battle lines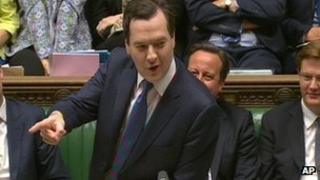 The timing of Wednesday's Spending Review owed more to politics than economics.
Partly, of course, it took place because Britain owes more than the chancellor had intended and he needed to reassure the markets that austerity wasn't about to be abandoned.
His plans to fill the underlying hole in the nation's finances, the "structural deficit", by the time of the election have had to be revised.
So new plans were required to reduce spending in the financial year 2015/16, starting a month before polling day.
But in the timing of Wednesday's statement, George Osborne sought to turn adversity to his advantage.
He could have set out these spending plans next year when he knew more about the state of the economy, and still convinced the financial institutions he was seriously grappling with a very resilient debt problem.
Weapons of attack
But by doing it this early, he issued a political challenge to Labour and helped draw up the dividing lines for the next election.
In setting out the coalition's cuts, department by department, he is challenging Labour to say where they would wield the axe if the two Eds occupy 10 and 11 Downing Street in May 2015.
George Osborne is often called the "part-time chancellor" by his opponents, because he is a political strategist as well as being the keeper of the nation's purse strings.
And in his statement, he displayed the weapons of attack which will be deployed in the run-up to the election.
He argued that he was moving money from unproductive or wasteful areas to the infrastructure projects that would help boost economic growth.
He said he would "raise our national game" by spending £50bn on infrastructure projects in 2015.
He stole some of his Lib Dem colleague Danny Alexander's thunder - as the chief secretary to the Treasury is scheduled to set out the details of such spending commitments tomorrow - and he sweetened the bitter pill of cuts for some of his cabinet colleagues.
Politically popular
So while, for example, the transport department faced a 9% cut in day-to-day spending in 2015/16, it would benefit from longer-term spending on high speed rail and on roads - though it has to be said HS2 is not entirely popular on George Osborne's own benches, as the new rail line will cut a swathe though Conservative constituencies.
He protected some politically popular areas of spending - schools, counter-terrorism - and confirmed no further cuts to Army personnel beyond those already pencilled in between now and 2020.
And, as well as protecting the health budget, he announced a significant reform: greater integration of NHS and social care budgets - something which shadow health secretary Andy Burnham had also been considering.
But for most of the statement, he kept his focus on the differences between his position and that of his Labour opponents.
He said a new welfare cap - a limit on the nation's credit card, as he called it - would be introduced just a month before the general election.
Older voters
So the challenge to Labour, who have also accepted the concept of a cap - is this: would they raise it, match it, or lower it?
Labour has said that pension expenditure would form part of its overall cap - but the chancellor specifically excluded it from his.
This was intended to underline a commitment to maintain the value of the state pension - it won't be lost on him that pensioners tend to show more enthusiasm for voting than the younger generation.
He pledged to freeze the council tax for two years (though the small print is likely to say this would apply only to councils which limit their budgets in return) - what would Labour do?
He said automatic pay progression for many public sector workers would no longer be automatic - so as well as limiting pay increases, would Labour reverse this?
Counter attack
He announced more funding for "free schools" - Labour say they won't allow any more of them to open if they take power. Instead they prefer new academies in areas where more school places are required.
Labour were determined not to fall into George Osborne's political trap - that they would spend more, and duck difficult decisions in tough times.
They have accepted day-to-day departmental spending limits for 2015/16 -though they may move money between departments, and borrow more for capital spending. Shadow Chancellor Ed Balls also set out different choices for raising finance - a new mansion tax, not a millionaire's tax cut, as he put it.
lt would have been difficult for Labour to inject much more cash into Whitehall the year after the election.
So Ed Miliband had to calculate that reassuring undecided voters that he can be trusted with the nation's finances would be worth the cost of disappointing some trade union leaders and some of his own rank and file who wanted him to signal an end to austerity.
And Labour's counter-attack was that the whole Spending Review would have been unnecessary if George Osborne had managed to cut the deficit as originally intended, or if he had decided earlier to boost the economy through greater capital spending.
So the battlefield for the next general election has become clearer. All the main parties accept the need for further cuts but they will argue over what to cut, and when.
And they accept the need for more spending on investment but there will be a dispute over how much to spend, how quickly and whether more borrowing is necessary to deliver it.