Ed Miliband pledges to strengthen veterans' NHS rights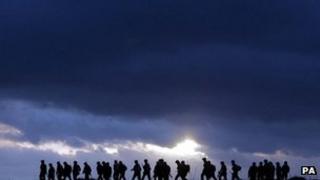 Ed Miliband has pledged to improve NHS provision for military veterans, particularly those suffering from mental illness.
The Labour leader says he would amend the NHS constitution, which sets out patients' rights, to give specific protection for the armed forces.
The party says "special provision" may be justified for veterans in the NHS.
The government said it was investing £22m in veterans' physical and mental health from 2010 to 2015.
Mr Miliband said he wanted to enshrine the principles of the military covenant - the nation's duty of care to personnel which was made law in 2011 - in the NHS constitution if he wins power at the next general election.
'Sacrifices made'
This, he argued, would "send a signal about the duty of care we owe to our veterans, and help to raise awareness of their specific needs".
"The armed forces' immeasurable courage keeps our nation safe," he said in a speech to veterans in Gloucester ahead of Armed Forces Day on Saturday.
"It is right we protect them just as they protect us. We must give all those who have served rights in the NHS constitution so they have access to the special healthcare they need and deserve.
"There is a significant minority who suffer from mental health problems on leaving the forces. Given the sacrifices they make in our name, it is essential we give a guarantee that their health will be protected."
The last dedicated military hospital closed in 2007.
Injured personnel are now treated at a military ward at Queen Elizabeth NHS hospital in Birmingham or other NHS centres - and there is a specialist military rehabilitation centre at Headley Court.
Health Minister Dan Poulter said: "Veterans are some of the bravest and most inspiring people in the country and they are already entitled to priority access to NHS care, where their condition relates to their time in the armed forces.
"This government enshrined the armed forces covenant in law for the first time - recognising that the whole nation has a moral obligation to members of the armed forces, veterans and their families and establishing how they should expect to be treated.
"We are committed to doing everything we can to support those who have served on the front line."
He said the government was investing £22m in supporting veterans' health and would be using money from the Libor fund, raised from fines imposed on banks for rigging interest rates, to fund the armed forces covenant and support forces personnel.
Meanwhile, Defence Minister Mark Francois has launched a new corporate covenant, in which businesses and charities sign a written commitment to help improve the lives of serving personnel, their families and veterans who are working for them, or using their services.
This includes providing job opportunities, offering discounts and supporting cadets.