Boris Johnson has considered third London mayoral bid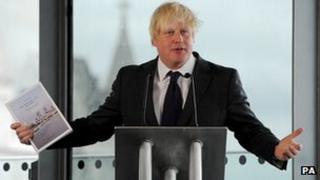 Boris Johnson says he would consider seeking a third term as London mayor if there was enough public support for such a move.
The London mayor has previously ruled out serving more than two terms, amid speculation he has his eye on the leadership of the Conservative Party.
But he told LBC radio he had discussed a third term bid with friends as there was still a lot he wanted to do.
He also repeated his call for an amnesty for illegal immigrants.
The London mayor said "you have got to reflect reality" and "we effectively have it".
'Reverse Morsi'
He said illegal immigrants should be granted an amnesty after 12 years, "otherwise they are not being engaged by the economy, they are not paying their taxes".
But, he added, "the key thing is to kick them out before they reach first base".
On the subject of whether he would seek a third term, Mr Johnson joked that he could be persuaded to stand again if there was a "reverse Morsi" in London.
His reference to the protests taking place in Cairo against the Egyptian president came during the first edition of a monthly phone-in on the London radio station.
He has said he will step down when his second four-year term in City Hall ends in 2016 but last year told the London Evening Standard that he regretted the decision.
Asked about his future plans by an LBC caller, he said politicians should be careful not to "do things for too long" but admitted that he had discussed the idea of seeking a third term with friends.
"You mean, if it was a sort of a 'reverse Morsi' situation? If there were hundreds of thousands of people actively calling for an extension of the administration?" he asked.
"The truth is that there are so many things we are trying to do at the moment that I know I am not going to be able to get in in time for 2016.
"I won't deny it, it is something I think about and something that I've even talked to friends about.
"But the reality is that after eight years you've been at it for a long time in a very big job. You see what happens to people who do things for too long. You've got to be fair to the electorate, you've got to be sure you are doing your best.
"There will come people who will have fantastic ideas and who will have fresh ways of thinking about things."
Labour predecessor Ken Livingstone achieved some good things for London but "wanted to go on for too long", he said.
"The truth is, I'm stepping down in 2016. After that, who knows what will happen."
But pressed again if he was sure he could not be persuaded to stay, he added: "It would have to be pretty massive. You really would have to get Trafalgar Square full."
Asked about Mr Johnson's comments, the prime minister's official spokesman said: "Boris is doing an excellent job and long may he continue to do so."