Labour plan to get schools and hospitals to buy British food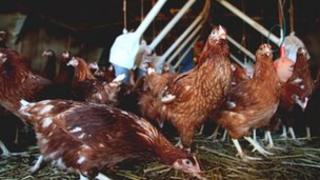 Labour is looking at ways of getting schools and hospitals to buy British food - without breaking EU trade rules.
One option might be to insist they buy produce that meets British animal welfare standards.
Britain is barred from discriminating in favour of its own farm products by single market rules.
Shadow environment secretary Mary Creagh also wants to strengthen the Food Standards Agency to prevent another horsemeat scandal.
Speaking at the launch of her party's food policy review, she said supermarkets should be forced to carry out more tests on food and make the results public.
Consumer protection
She said the government had been wrong to strip the Food Standards Agency of some of its powers, which had "shattered its clarity of purpose" and prevented minsters getting independent advice.
She said she wanted to see that reform reversed, to return the FSA to being a "gold standard" regulator "unequivocally on the side of consumers".
She also suggested kitchens in schools and hospitals could be encouraged to buy British - something the RSPCA and other animal welfare groups have been calling for.
Britain has higher animal welfare standards than some other EU countries, particularly when it comes to the space allocated to animals, the RSPCA says.
Some farmers say this has led to higher production costs and Labour says it wants to see them better rewarded for their investment.
Asked whether Labour would launch a "Buy British" campaign in public institutions if it wins the next election, Ms Creagh said: "You can't do anything that puts us in breach of European legislation because, obviously, we are an open market country, in a free market and we want to keep our trading status."
'Best of British'
But she said what could be done was to insist on food produced to British welfare standards and hope "the costs of transport would mean that the most competitive supplier would be a domestic supplier".
She said Britain had a poor track record compared with other EU countries when it came to getting its own farm produce on to the menu in schools and other public sector institutions.
Shadow farms minister Huw Irranca-Davies praised an initiative by the Welsh government, which he said had opened up the procurement process to small local suppliers.
"We genuinely believe that the massive investment that's been put in over a couple of decades by not only UK food manufacturing but UK farmers as well needs to be reflected in what we do with our purchasing policies at all levels of government," he added.
The Labour environment team hosted a "best of British food" exhibition in the Houses of Parliament to promote locally-grown produce including Melton Mowbray pork pies, Cornish pasties and Rutland bitter.
The Department for Environment, Food and Rural Affairs said it encouraged all public sector institutions, including schools and hospitals, to buy food that meets "UK standards of production".
A survey published by the RSPCA and the Campaign for Better Hospital Food suggested most eggs, chicken and pork served in hospitals in England is from animals reared in only "basic welfare conditions".
It also found a big regional variation in the animal welfare standard of hospital food in England.
RSPCA Spokesman David Bowles said: "It is strange that just when you are at your weakest, you are served food that may not be to your taste and can be from animals kept under intensive conditions.
"Even hospitals serving food made from free range eggs in their coffee shops and cafeterias are still delivering food made with cage eggs to patients.
"We support the idea of having standards for hospital food."