MP Peter Bone objects to 'Tory Taliban' label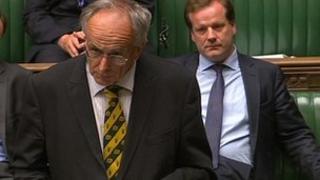 The Conservative MP Peter Bone has objected to Labour's description of some Tory MPs as the "Tory Taliban".
In the Commons, the Shadow Leader of the House, Angela Eagle, poked fun at the legislative proposals being put forward by Mr Bone and his colleagues.
She said ideas like a Margaret Thatcher Day showed the "Tory Taliban" was continuing to "fire on all cylinders".
Mr Bone, whose son is serving in Afghanistan, said it was "extremely offensive", and should be withdrawn.
He raised the comment as a point of order in the Commons: "At a time when the brave men and women of our armed forces are fighting these evil people... I find that to be a completely objectionable remark."
Responding in the Commons for Labour, Thomas Docherty said it was not the first time Ms Eagle had used the phrase " Tory Taliban" - he said she had seen it used on the Conservativehome website and had believed it was a "self-proclaimed term".
He added that Ms Eagle "means no disrespect to the honourable gentleman, for whom she has a great deal of affection".
Deputy Commons Speaker Lindsay Hoyle said MPs should be mindful of using "moderate language" in the Chamber.