Political parties shelve funding reform talks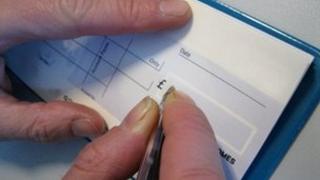 Reform of funding rules for political parties has been shelved until at least 2015, after talks broke down between the three biggest parties.
The issue was examined at length by the Committee for Standards in Public Life, but Labour, the Tories and Lib Dems could not agree on its findings.
The inquiry had recommended more public money for parties to reduce their reliance on "big money" donations.
Controversy about donations and loans has affected all three parties.
In a written statement, Deputy Prime Minister Nick Clegg said the three parties had held seven meetings on the issue in 2012 and 2013, to no avail.
"I am disappointed that, as on previous occasions, there has been no agreement between the three parties on beginning party funding reform.
"Although it is now clear that reforms cannot go forward in this Parliament, I hope that the principles explored can inform further discussions on this topic and that the parties will then return to this issue after the next election."
Funding controversies
A Lib Dem source claimed talks had broken down because Labour would not move on trade union funding, while the Conservatives would not make concessions on big donations.
UK political parties are funded from a combination of membership subscriptions, donations, union money, loans, and public funds. There are no limits on donations, but the name of anyone who gives more than £7,500 to a party is made public.
There have been a series of funding controversies over the years - from the cash-for-honours investigation and the tax status of one of the Conservatives' biggest donors - Lord Ashcroft - to the Lib Dems' acceptance of a £2.4m donation from the company of a convicted fraudster.
Previous talks were also abandoned in 2007 because parties could not agree.
Mr Clegg said the government would push ahead with "sensible and necessary improvements to the controls on third parties which campaign at general elections" to make sure they were "fully transparent and not allowed to distort the political process".
Big money
There are limits on party campaign spending in the run-up to general elections of up to £30,000 per seat - or £19.5m overall, if all 650 Westminster seats are contested.
The government also wants tighter controls of money spent by third parties like trade unions and campaign groups in general election campaigns.
It emerged in June that it planned to include new restrictions in a bill to introduce a lobbyists' register - leading unions to accuse the coalition of exploiting a recent lobbying scandal to try to bring in new curbs on their political influence.
The independent Committee for Standards on Public Life recommended in 2011 that political parties should get an extra £23m of taxpayers' money, to reduce their reliance on "big money" donations. It also recommended a £10,000 annual cap on individual donations, including those from trade unions, from 2015.
UK political parties spent £31.1m at the 2010 general election.