UKIP is not a Tory right splinter group, says Farage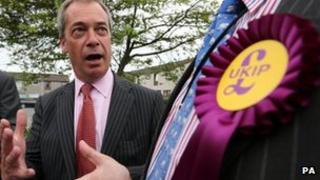 UK Independence Party leader Nigel Farage has told the BBC his party is not a right-wing Conservative "splinter group" and is "here to stay"
A survey of 101 UKIP councillors showed 21% were former Tory councillors and 33% had been Conservative members.
Mr Farage said his party was drawing support from across the political spectrum and across England.
But Justice Secretary Chris Grayling said Conservative voters tempted by UKIP could let Labour into power.
UKIP's success in local elections in May heightened tensions between the Conservative leadership and the party's grassroots and prompted the creation of a Conservative backbencher's bill calling for an in-out referendum on Europe by 2017.
'No surprise'
An online survey of UKIP councillors elected in May, carried out by ComRes for the Sunday Politics, found that 70% had previously been Conservative voters, 7% Labour voters and 1% Lib Dem voters.
Mr Farage, whose party campaigns for the UK's exit from the European Union, played down suggestions that his party was merely taking votes from the Conservatives.
"Where we broke through this year was in predominantly Conservative areas - after all, these were shire elections."
"So it's no surprise to me that 70% of that particularly survey had previously been Conservative supporters. Had you gone to Barnsley, or Rotherham, or Middlesbrough or South Shields or any of those [council] by-elections in which UKIP's been coming second in very safe Labour seats, you would have found there the vast majority of our votes had actually come from the Labour Party."
"We will be attacking the Labour vote more and more over the next few months," he said.
He said it was not right-wing to want Britain to have a trade relationship - not a political union -with Europe: "Remember it was the left of the Labour Party in the 70s and 80s, even Neil Kinnock at one time, who believed in that view."
In-out referendum
He told the programme that while the party picked up support from disenchanted Tory votes, overall most of its backers were from parties other than the Conservatives.
"This is not a splinter group on the right of the Conservative Party. This is a new national party, not hidebound by political correctness, prepared to stand up and say things that everybody else has tried to brush under the carpet for decades. We are here and here to stay."
But Conservative Justice Secretary Mr Grayling said the result of people voting UKIP at the 2015 general election would be a Labour victory: "If you are lured by other temptations, the sofa on polling day, the smooth patter of Mr Farage, you are going to end up with Ed Miliband as prime minister."
He pointed to the private members' bill backed by the Conservative Party on Friday - calling for an in-out referendum on Europe by 2017 - as evidence that the party wanted to act on Europe.
Lib Dem opposition to the Conservative-drafted bill meant it could not be taken forward as a government bill.
Instead Tory backbencher James Wharton, who came first in a ballot of MPs allowed time to introduce their own bills, made it the subject of his private members' bill, debated on Friday.
MPs backed Mr Wharton's private member's bill at second reading by 304 votes to 0 although only a handful of Labour MPs took part as they and the Lib Dems boycotted the vote en masse. It will face much stronger opposition later and its passage through Parliament is far from guaranteed.
Justice Secretary Mr Grayling said: "If we are going to win the argument, the only way we are going to be able to change these things, the only way we are going to be able to deliver an in-out referendum... we have to get a majority Conservative government."