Councils recognise honest parking mistakes, say officials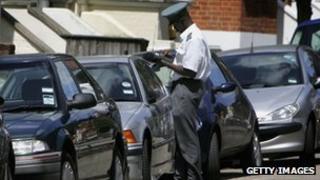 Councils are prepared to look sympathetically on motorists who get parking fines as a result of "honest mistakes", officials have told MPs.
Westminster Council's Daniel Astaire told the Commons Transport Committee that decisions should always be made in a "sensible and rational way".
But he suggested some people were "constantly making the same mistake".
Tory MP Iain Stewart suggested the rules did not legislate for "human frailty" and more leeway was needed.
Councils have been accused of raking in money from parking fines and enforcement penalty notices for driving offences at a time when income from other sources - such as government grants and council tax - is falling.
'Step too far'
But appearing before the cross-party committee, local authority officials said parking was not used as a "revenue-raising exercise" and suggested the low level of appeals showed the system was understood by the public.
Mr Stewart, MP for Milton Keynes, said he had been fined recently for parking in a space reserved for residents adjacent to a pay and display bay and where the signs were not clear.
But, in response, he said he had received a "complete job's worth" letter saying he should have read the signs more carefully.
Mr Astaire said his council would always consider complaints about poor signage and cases where information was accidentally misreported but "we do see people who are constantly making the same honest mistake".
He said the number of appeals, as a proportion of tickets issued, in his area had fallen from 15% to 5% and the council spent broadly as much on enforcement as it got in from fines and other offences.
"No-one likes to be caught but the aim is to ensure the smooth flow of traffic through the city. I think a lot of people understand that," he said.
Peter Box, from the Local Government Association, said four million tickets had been issued in England in 2011 and less than 1% had been the subject of an appeal. While £411m was raised in parking offences in 2011-12, councils spent £8bn on public transport.
When officials made the wrong decision, they acted to rectify it as "quickly as possible", he added. "The evidence is that we do that because we are subject to pressure from our residents who will not stand idly by."
'Heavy-handed'
He rejected suggestions that people were put off appealing by the effort involved and the fact they were offered a substantial discount on the fine if they settled within two weeks.
Mr Box, who said he had received a fine himself in Darlington recently, said people did not part with their money easily and that they still received the early repayment rebate if their appeal was unsuccessful.
Labour MP Louise Ellman said the fact Nottingham did not challenge 40% of appeals showed it was not getting things right.
Jane Urquhart, in charge of the council's planning and transport, said it showed the council was willing to admit its mistakes and the recent decision to end contracting out of parking services and bring them in-house had led to a 14% reduction in appeals.
Transport minister Norman Baker said it would be "heavy-handed" for ministers to get involved in parking rules beyond issuing guidelines and setting maximum fine limits, saying enforcement was a matter for councils.
There was no evidence that councils were incentivising wardens to maximise income from tickets which, he said, would be contrary to the rules. "I hope that does not apply anywhere."
The government was considering the maximum and minimum level of fines but no decision had been taken, he added.