Universal credit: National roll-out delayed, claims Labour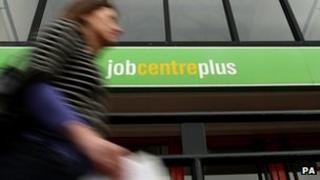 The national roll-out of the government's flagship universal credit scheme has been hit by fresh delays, Labour claims.
New claimants at six "hub Jobcentres" in England, Wales and Scotland will receive the new benefit from October.
The government had initially planned to make it available to for all new claimants from that date.
They insist it will still be completed by 2017 as planned - but Labour said it had become a "white elephant".
Work and Pensions Secretary Iain Duncan Smith published the latest update on his flagship project to merge several benefits and tax credits into one monthly payout in a written statement on Wednesday.
'White elephant'
He said, from October, there would be retraining of 20,000 Jobcentre Plus advisers to help "drive the cultural shift under Universal Credit" across all Jobcentres and 6,000 new computers would be installed across the country.
Six centres - Hammersmith, Rugby, Inverness, Harrogate, Bath and Shotton - will begin taking universal credit claims from October - in addition to four other centres already trialling the new system.
But in 2011, then welfare minister Chris Grayling told MPs that, from October 2013, "all new claims for out-of-work support would be treated as claims to universal credit".
The aim was then to get all existing claimants moved across to the new system between April 2014 and October 2017.
Shadow Work and Pensions Secretary Mr Byrne said Wednesday's announcement showed the universal credit had become "the biggest white elephant in Whitehall".
"David Cameron and Iain Duncan Smith have spent £420m of taxpayers' money to deliver universal credit in the grand total of just ten job centres - that's less than 1.5% of the nation's job centres," he said.
"Iain Duncan Smith must now ask himself if he is fit for purpose."
But Mr Duncan Smith said: "I'm determined to get this right and will not follow the old ways of governing - launching with a big bang and having to clear up the mess afterwards. I will bring in this radical reform safely, and I'm committed to doing it by 2017 and to budget."
Last year the Commons work and pensions committee warned the October 2013 rollout date was "very ambitious and leaves little opportunity for dealing with any problems which arise".
And the government's Major Projects Authority has warned that the introduction of universal credit was one of more than 30 flagship schemes at serious risk of failure.
'Best long-term approach'
The Financial Times reported last month that there had been a rethink of the technology that underpins the Universal Credit since the start of the year.
The government said on Wednesday that trials had shown that the IT system worked, but added: "In parallel, the DWP is working with the new Government Digital Service to explore the possibility of enhancing the IT, using recent advances in technology to ensure the system is as secure, flexible and responsive as possible."
Mr Duncan Smith said the government was "ensuring that we have the best long-term approach in place for this transformative benefit".
Universal credit is for working age people looking for work, and will replace income-based jobseeker's allowance, income-related employment and support allowance, income support, child tax credit, working tax credit, and housing benefit. It will eventually affect nearly eight million people.
The government says it will mean people are always better off in work than on benefits, will simplify the system and reduce fraud and error. But its critics have questioned whether its computer network will be able to cope with millions of claims and whether all claimants have internet access to use it.