Government wine flows more freely, figures show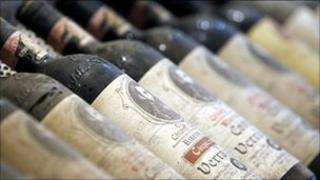 The amount of wine drunk at government functions went up by 20% last year.
A total of 5,547 bottles were consumed compared with 4,651 in 2011-12.
This was partly because of extra events to mark the Queen's Diamond Jubilee and Olympics, said the Foreign Office, which runs the wine cellar.
More than £45,000 was spent stocking the cellar - £3,000 less than the previous year - but the government says it is funded by auctioning the most expensive bottles.
The annual statement on the use of the wine cellar shows £63,000 was raised auctioning off just 54 bottles of wine - a 50% increase in sales revenue.
Among the wines the government parted company with were six bottles of Chateau Latour 1961, considered one of the top five wines produced in the Bordeaux region of France, and 12 bottles of Chateau Lafite Rothschild 1988.
The wine cellar also received £22,129 from other government departments during 2012-13.
In a written ministerial statement, Foreign Office Minister Mark Simmonds said: "The wine cellar is now self-funding through the sale of some high-value stock and payments made by other government departments to government hospitality."
A total of £45,866 was spent on wine in 2012-13 for state banquets and events, compared with £48,955 the previous year.
And for the first time English wines were the most popular, accounting for 49% of consumption.
Criticism
The future of the wine cellar was reviewed after the 2010 election, but it survived after it was found that the cellar was the cheapest way to supply wine for hospitality.
But the review concluded that "substantial reform" was needed and the cellar must become "self-financing" to provide value for money.
The wine cellar lies beneath a grand London mansion owned by the Queen and leased to the government,
The cost of maintaining the cellar has been criticised by MPs from different parties.
Labour's Tom Watson has in the past used a series of parliamentary questions and Freedom of Information requests to discover that the cellar featured high-profile wines from the likes of Chateau Latour, Chateau Lafite, Chateau Margaux and Chateau Mouton Rothschild.
In opposition, Lib Dem MP Don Foster suggested the previous government was "living way beyond their means" after it was revealed the cellar contained 39,500 bottles of wine, spirits and liqueurs worth around £792,000.
The Hospitality Advisory Committee for the Purchase of Wine was abolished in 2010 - as part of the government's "bonfire of quangos" - but its members agreed to provide "expertise... on an ad hoc basis".