Syria conflict: Consult us before arming rebels, MPs tell government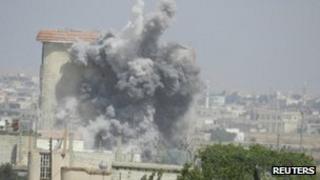 MPs have urged the UK government to consult Parliament before any decision to arm rebel forces in Syria.
The Commons backed a motion proposed by Tory MP John Baron by 114 votes to one.
Mr Baron said there had to be a "diplomatic solution" to the conflict, and greater humanitarian aid efforts.
But ministers have already indicated that they will give the Commons a full vote before any decision on arming rebels is made. Mr Baron's motion is not binding on the government.
It is estimated that more than 90,000 people have died since fighting began in Syria in early 2011.
The European Union has suspended an embargo on arming the rebels.
'Negotiate'
But more than 80 Conservative MPs have signed a letter calling for a full Commons vote before any UK decision to take action against the government of President Bashar al-Assad.
Last month, House of Commons Leader Andrew Lansley said the government had not decided whether to arm rebels and no move would happen "unless and until it secured the support of this House on a substantive motion".
However, Prime Minister David Cameron said a few days earlier that the UK had to retain the "ability to take action very swiftly".
During the debate, Mr Baron, MP for Basildon and Billericay - whose motion called for "explicit" consultation - said: "On the diplomatic front, I think most people would accept there can be no military solution in the longer term to this problem - there has to be a diplomatic solution.
"And yet why, as is presently the case, is the West trying to exclude Iran, a key player in the region and within the country from the forthcoming peace talks that are being put together by the Russians?"
Labour MP and former Foreign Office Minister Peter Hain said: "We should have encouraged a negotiated solution from the beginning. Instead, we began by demanding [President] Assad's unconditional surrender and departure.
"But calling for regime change meant chasing an unattainable goal at a cost of yet more bloodshed and destruction. So is the idea of supporting a rebel military victory. That was fatal.
"This is not some simplistic battle between evil and good."
And former Liberal Democrat leader Sir Menzies Campbell said arming the rebels would be a fundamental change of policy with "unknown political, military and perhaps even constitutional significance".
However, Sir Malcolm Rifkind, former Foreign Secretary and chairman of the Intelligence and Security Committee, backed helping the rebels.
He said: "I have come to the view that intervention of the kind we are discussing would not only be ethically justified but also politically desirable."
He added: "It may not be a good solution - but it may be less bad than the alternatives. That is ultimately the judgement we are being asked to make."