Lib Dems unveil proposal to build up to 25,000 homes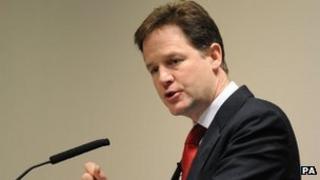 The Liberal Democrats have unveiled a series of policy ideas to boost growth - including a plan to build up to 25,000 council houses.
Nick Clegg has said his party will not "waver" from the coalition's deficit reduction programme.
But he wants to show voters it has ideas of its own - separate from the Conservatives - in the run-up to the next general election.
The package will be put to a vote at the Lib Dem conference in the autumn.
In a speech in Manchester on Saturday, Business Secretary Vince Cable will insist the coalition government had "made some real progress" on tackling the housing crisis.
'Growing pressure'
But he will say more needs to be done and he will call for a "surge of housebuilding of the kind that lifted Britain out of the inter-war slump".
"At present we are in danger of the worst (situation) of all: a revival of house prices fed by easier credit and housing shortage, making them still less affordable to the ordinary first-time buyer, a growing private rented sector sucking in housing benefit which is in turn being reduced, cutting off low income tenants, and growing pressure on the remaining social housing stock which has been declining irredeemably in recent decades," the business secretary will say.
Under the Lib Dem plan, councils which have not taken up their full borrowing entitlement could allow other authorities to use the money to build new homes.
At present some councils have the necessary headroom to borrow but do not have a local need to build housing, while others wish to build but have already reached the borrowing cap.
The move could see councils with low housing needs striking a deal with neighbouring authorities to build homes in exchange for taking on responsibility for some of their housing waiting list.
'Right moment'
Local authorities have been calling for such a move since they were handed control of £2.9bn of borrowing capacity or "headroom" by the government in April 2012.
But the Treasury was reported to be nervous about allowing councils to borrow more than their limit.
The Lib Dems claim the measure could lead to the construction of between 15,000 and 25,000 council homes.
The party's proposals also include more help to find work for 16 to 24-year-olds and a fresh push to make state-owned Royal Bank of Scotland bank lend to small businesses.
There is also a plan to make the Green Investment Bank fully independent so it can borrow in the markets and lend to businesses.
In an email to party supporters, the deputy prime minister said: "We've agreed this autumn is the right moment to set out a clear, Liberal Democrat vision for Britain's future economic growth and prosperity.
"We are putting a motion to our party conference that will move us beyond the sterile Plan A versus Plan B debate and on to distinct liberal territory. Not abandoning for a moment our commitment to fiscal discipline.
"But not wavering, either, in our determination to find new ways to support growth and jobs."