Nick Clegg on new funding for English regions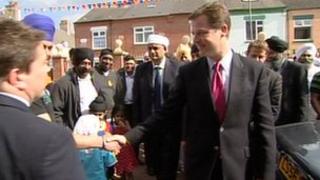 All politicians want to be heard. But they are not necessarily listened to.
That's been a problem for the Deputy Prime Minister Nick Clegg.
But are there signs that voters are giving the Lib Dem leader the benefit of the doubt.
He was back in the East Midlands, a patch he knows well from his early days as the region's first Liberal Democrat Euro MP 14 years ago.
The deputy prime minister joined production workers at the Toyota car plant at Burnaston, near Derby.
The talk was about getting the Coalition's Regional Growth Fund (RGF) into gear.
'Slow lane'
"It's good news for the East Midlands because it's getting close to £50m in this round," he told me.
This latest round of funding - the fourth - is significant for the East Midlands economy.
Up until now, the Coalition faced criticism from local politicians for leaving the East Midlands in the funding slow lane.
Up to 13 local businesses will share in the pot. Across England, they're some of the 102 companies to benefit from the £506m that's available.
Toyota is getting up to £6m. Little wonder management and staff were all smiles for the deputy prime minister and listening to his every word.
"Quite simply, they were good bids. Look, we are in a global race and a global competition," he added.
"We are using the Regional Growth Fund to ensure jobs stay here in Derby and in the East Midlands."
Toyota employs 3,000 staff at Burnaston and will use its RGF cash to help develop new models and upgrade its Auris and Avensis range, of which 80% is exported.
But shouldn't such government cash be going to smaller businesses rather than a large Japanese multi-national?
"We have to be competitive with other car companies and also within Toyota as well," said Tony Walker, UK Deputy Managing Director of Toyota Manufacturing.
"Toyota is a large company and we want to make sure they take the right decisions for people like me and everyone else here in Derbyshire and the UK."
Straw poll
That's a hint that without such government cash support, a multi-national could easily switch production elsewhere in the world.
There's been a cautious welcome to Nick Clegg's RGF announcement. Labour's Jon Ashworth is also listening to the deputy prime minister.
He's been a critic of earlier funding rounds that put the East Midlands at a big disadvantage with other English regions. He led some heavy-duty political lobbying to get a better deal.
"It's not fair that a region with such a strong manufacturing base lost out in the first three rounds," said the Leicester South MP.
"But it now looks as though Nick Clegg has got that message. We will now have to look at the detail of what's been announced."
Nick Clegg's visit to Toyota ended with a question-and-answer session with the workers. Tuition fees were raised but most of the questions were about the economy. They listened to what he had to say.
Emboldened, he then did a straw poll among the 80 or so staff on having an EU referendum.
The result? Just a handful wanted out. The overwhelming majority wanted the UK to remain a member of the European Union. Nick Clegg was smiling.
Maybe his message is now being heard again. Certainly these workers were listening.