David Miliband urges Labour to go for outright election win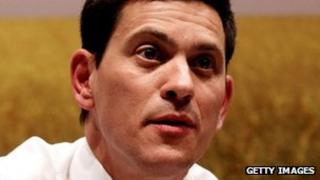 Former Foreign Secretary David Miliband has warned the Labour Party against "assuming" the next general election will result in a hung Parliament.
He urged activists not to rely on the "mathematics" of opinion polls that suggested another coalition was likely, but to fight for a Labour majority.
Mr Miliband lost the party leadership contest to his brother Ed in 2010.
He backed his brother's pledge to change Labour's relationship with trade unions, calling it "great".
Mr Miliband, who stood down as MP for South Shields in April and starts work in New York next month in his new role as head of the International Rescue Committee, said he did not want to lead his life "looking in the rear-view mirror".
'Open'
Interviewed on BBC One's Andrew Marr Show, he said the next general election, in 2015, was still "all to play for" for the the main three political parties.
He added: "I don't take the conventional wisdom on this. The conventional assumption that we are bound to get a coalition is wrong.
"In the end the British public will take a view. There's a bit too much mathematics going on...
"People will come to a judgement on the future of the country in two years' time. It's open."
Mr Miliband was widely regarded as the favourite to take the Labour leadership before being defeated by his brother, who had more support among the unions.
David Miliband said: "The truth is that these things you can never erase from memory or history. Ed and I are brothers for life."
In recent weeks the Unite union, one of Labour's biggest donors, has been accused of enrolling its members into the Constituency Labour Party in Falkirk - some without their knowledge - in an effort to get its preferred candidate selected.
Last week, Ed Miliband announced plans to overhaul the current system of union funding, which sees members of supportive unions pay an automatic levy to Labour unless they choose to opt out.
David Miliband said: "It's great, obviously... It puts Labour in a stronger position. Labour is in a stronger position this week than it was last week."
Asked about his failed Labour leadership bid, Mr Miliband referred to last weekend's Wimbledon final, in which Britain's Andy Murray beat Serbia's Novak Djokovic in straight sets, joking: "There are the Murrays of this world, who win, and the Djokovics, who come second, and you've got to be gracious."