David Cameron tweet links to parody Duncan Smith account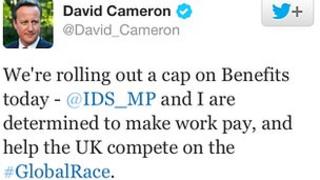 David Cameron has mistakenly included a link to a parody Iain Duncan Smith Twitter account in a tweet hailing the launch of the benefits cap.
The prime minister, who has 366,000 followers, said "@IDS_MP and I are determined to make work pay and help the UK compete on the #GlobalRace".
Clicking through to @IDS_MP swiftly shows it was not the work and pension secretary's official account.
One tweet says of a mansion tax: "Your tax buys my mansion. Chin chin!"
The tweet sent out by Mr Cameron had been retweeted 680 times three hours after being sent.
Many Twitter users had posted replies pointing out that it was linking to a parody account.
A search for Iain Duncan Smith on Twitter brings up the parody account - the site does not appear to list an official account for the cabinet minister.
Mr Cameron joined Twitter last October under the name @David_Cameron, three years after saying that he was not a fan of the website, which allows people to post short public messages up to 140 characters in length.
Tweets on his account are posted by both the prime minister and the Conservative Party social media team.
There are many parody accounts on Twitter. Official accounts can get a blue tick added by Twitter to make clear they are verified.
The other way to check whether or not an account is a parody is to have a read through some of the tweets.
The Prime Minister's Official Spokesman, asked about the tweet at his regular briefing with reporters, said it was "#onetotakeonthechin"
Asked whether Mr Cameron writes his own tweets, the spokesman said: "I'm not going to get in the process-ology of it but the prime minister's tweets are entirely his views."
A cap on the total amount of benefits that people aged 16 to 64 can receive has begun rolling out across England, Scotland and Wales on Monday.
Couples and lone parents will now not receive more than £500 a week, while a £350 limit applies to single people.