Send workers home when it gets too hot, say MPs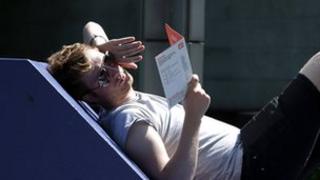 Sweltering workers should be sent home by law when temperatures get higher than 30C (86F) to prevent potentially fatal accidents, a group of MPs has said.
And those doing "strenuous work" should be allowed to down tools when their workplace temperature reaches 27C.
An Early Day Motion has been tabled in the Commons by Labour MP Linda Riordan.
The MPs say there are guidelines on minimum temperatures for indoor workplaces but no maximum.
Places of work have to be kept at a "reasonable temperature" according to current guidance issued by the Health and Safety Executive, with the recommended minimum 16C or 13C if much of the work is physical.
But the MPs claim there is "considerable uncertainty" about the upper limit.
"Employees in a wide range of workplaces - from industrial bakeries to school classrooms - are often subjected to high temperatures which can impact seriously on their health and well-being, with effects ranging from discomfort, stress, irritability and headaches, to extra strain on the heart and lungs, dizziness and fainting and heat cramps due to loss of water and salt," says the motion.
Overheating can cause "reduction in cognitive function, attention span and visual motor tracking", which can lead to workplace accidents and fatalities, the motion adds.
The TUC has been campaigning for a maximum workplace temperature.
The Early Day Motion was signed by Labour MPs David Anderson, Ian Lavery, David Crausby, Natascha Engel and John McDonnell and Mark Durkan from the SDLP.
It is unlikely to be become law.