MP recall plan will 'restore trust', says minister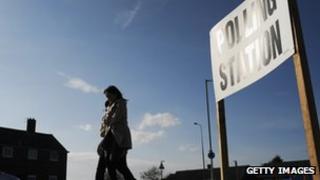 Plans to introduce rules to recall errant MPs will go ahead, says the government, despite criticism they are so restrictive it may never happen.
Recall, effectively allowing MPs to be sacked via a petition of constituents, will be legislated on "as soon as Parliamentary time allows".
But under the plans, only a jail term or a Commons committee ruling could trigger the process - not voters.
Critics say this mean politicians sitting in judgement on politicians.
Under current rules, MPs can only be removed from their seats between elections if they are convicted of a crime resulting in a prison sentence of 12 months or longer.
But under the new plans if an MP was sentenced to 12 months or less, a petition would automatically be opened in their constituency.
If it was signed by at least 10% of constituents, the seat would be vacated and a by-election called.
Separately, a petition would be opened following a ruling from the House of Commons, if an MP committed "serious wrongdoing" - the government gives the example of a "serious breach of the House of Commons Code of Conduct".
Again, constituents would then decide whether or not a by-election should be called.
In a written statement, political and constitutional reform minister Chloe Smith said: "We believe this recall mechanism will go some way to restoring trust and accountability to the political process.
"It will provide an important tool for the House to add to its own suite of disciplinary measures and will give a reassurance to constituents who should not have to rely on their MP choosing to stand down following the committal of a serious wrongdoing."
But there has been criticism of the proposal, as MPs' constituents would not be able to instigate the recall process to force a by-election.
The Political and Constitutional Reform Committee has previously said the planned conditions were too narrow and MPs would seldom if ever face the sack.
Conservative backbencher Zac Goldsmith said the power should lie in the hands of the public, not MPs, and has described the plans as an "absolute stitch-up", while his colleague Douglas Carswell said it would mean "politicians sitting in judgment of politicians".
The idea of bringing in new recall powers dates back several years, to when details of MPs' expenses abuse first began to emerge and were included in the 2010 coalition agreement.
Ministers have said the triggers are in place to stop "vexatious attempts" to remove MPs who had done nothing wrong.
Deputy PM Nick Clegg told the committee the plans were not intended to offer "an unlimited, unqualified, untrammelled right to trigger a by-election, whenever you happen to feel like it, because you don't like the cut of the jib of your local MP".