Parliament 'must pardon codebreaker Turing'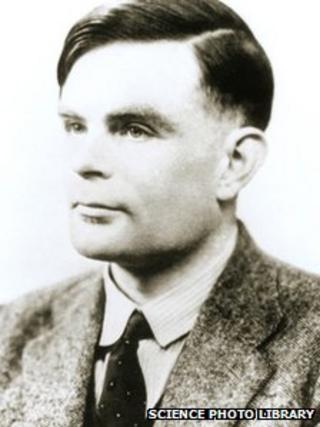 Parliament should act to right the "historical injustice" which saw World War II codebreaker Alan Turing convicted of gross indecency, peers have been told.
Lib Dem peer Lord Sharkey wants a Parliamentary pardon for Turing - as the government has resisted calls to grant him a full posthumous pardon.
He said Turing and other gay men were treated with "terrible cruelty".
The government said it would not stand in the way of the bill.
Turing was convicted of gross indecency in 1952, when homosexual acts were illegal in the UK. Two years later he died from cyanide poisoning - his inquest ruled a verdict of suicide.
He was part of the team at Bletchley Park that cracked the Nazi Enigma code, vital to the allied war effort and is now widely recognised as a computing pioneer.
'Appalling treatment'
But at the time of his death he was virtually unknown to the public as his work at Bletchley Park was kept secret until 1974.
In 2009 the then Prime Minister Gordon Brown issued an official apology for his "appalling" treatment, but campaigns for a full pardon for the computer scientist have not been successful.
The government dismissed calls for a posthumous pardon in 2012 - arguing that one was "not considered appropriate as Alan Turing was properly convicted of what at the time was a criminal offence".
But, had he still been alive today, he could have applied to have the conviction against him "disregarded" under the Protection of Freedoms Act 2012.
Lord Sharkey told peers that Turing's work to crack the Enigma code probably turned the course of the Battle of the Atlantic, shortened World War II by two years and may have saved hundreds of thousands of lives.
'Great man'
The peer was taught mathematics at university by Turing's close friend Robin Gandy and said he had been familiar with his story from an early age.
"The government knows that Turing was a hero and a very great man. They acknowledge that he was cruelly treated. They must have seen the esteem in which he is held here and around the world," he said.
"It is not too late for the government to pardon Alan Turing. It is not too late for the government to grant a disregard for all those gay men convicted under the dreadful (legislation). I hope the government is thinking very hard about doing both of those things.
"But while they are thinking, Parliament can act."
Conservative peer Baroness Trumpington also worked at Bletchley Park during the war but told peers while she had met Turing once, she could not claim to have known him.
But she said the British would have starved if Turing had not cracked the codes which showed where German U-boats were operating in the Atlantic, which had been intercepting supplies from the United States.
"While in 2009 the then Prime Minister Gordon Brown issued an apology for Turing's treatment, this government should do more," she said.
"This is not about legal issues but about recognising the debt this country owes Alan Turing."
Labour's Baroness Dean of Thornton-le-Fylde also told peers: "We owe a huge debt to Alan Turing and debts have to be paid and ours has been too long in the paying and now is the time to do it."
Labour is supporting the bill and Lord Ahmad of Wimbledon, for the government, said ministers sympathised with the bill's objectives and were "very aware of the calls to pardon" Turing.
He paid tribute to Turing, who he described as a "brilliant mathematician" and "one of the world's most original thinkers about the possibilities offered by computing", whose work had helped shorten the war.
"No pardon can undo what was done to Alan Turing or indeed wipe out the facts of his appalling treatment."
But he added: "Parliament should be free to respond to this bill in whatever way its conscience dictates, in whatever way Parliament so wills."
He said, if there were no objections, the bill should make "speedy progress" through the Lords.
After the war, Mr Turing went on to help create the world's first modern computer, the Manchester Small-Scale Experimental Machine.
He also invented a test for artificial intelligence, which is still used in computer science.
Some of Britain's leading scientists, including Prof Stephen Hawking, have called on the government to grant him a posthumous pardon.