Labour set to stage special conference on union changes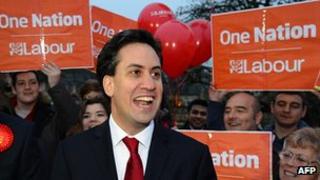 Labour should hold a one-off conference next year to vote on proposed changes to its relations with the trade unions, Ed Miliband has said.
The Labour leader wants to end the automatic affiliation of union members to the party amid a row over union influence over candidate selection.
Speaking on Monday, Mr Miliband said working people should have a "real choice" about whether to join Labour.
Union leaders say they will co-operate but warn it will cost Labour money.
Mr Miliband wants to strengthen the link between the party and individual union members after being accused by David Cameron of being under the thumb of trade union bosses such as Unite leader Len McCluskey.
This followed allegations - rejected by Unite - that it had tried to rig the outcome of a parliamentary selection contest in Falkirk.
Under the current affiliation system, members of supportive unions pay an automatic levy to Labour, unless they choose to opt out - a link which generates about £8m a year for the party.
'New politics'
But Mr Miliband says such an arrangement is no longer acceptable in the 21st Century and union members must make a "deliberate" decision to join a political party and to be active participants.
The move could cost Labour an estimated £5m in income but the party believes it will substantially increase its number of active members in the run-up to the next election.
The Labour leader called for a special conference to be convened next year to allow party members to endorse what he has described as "historic" changes to the party's union links.
The final decision will be made by the National Executive Committee, Labour's governing body, next month.
"We are going to build a new way of doing politics," Mr Miliband said. "We want to open up our policy-making, clean up the lobbying industry and take the big money out of politics.
"And we want to let people back in. So I want all Labour Party members, supporters, trade union members involved in this dialogue, leading up to the Special Conference this spring to agree change."
The BBC's political correspondent Chris Mason said Mr Miliband's advisers believed he could win a vote on the issue.
The move apes Tony Blair's decision to put changes to the party's constitution, in which the Clause IV commitment to public ownership was ditched, to a one-off conference in 1995.
'Smokescreen'
Without a special conference, the changes would have to be approved at Labour's autumn conference in 2014 - which would be less than 10 months before the next general election.
A consultation on the changes, to be led by former Labour general secretary Ray Collins, will be launched in the next few weeks and an interim document published at the party's conference in September.
The Conservatives said the planned changes were a "smokescreen" to distract from the party's failings in other areas.
"Even if these changes are introduced, Len McCluskey would still be able to buy Labour's policies, buy their candidates and buy their leader," said party chairman Grant Shapps.
"So it would still be the same old Labour Party with Ed Miliband too weak to take the difficult decisions needed to cut the deficit or fix the welfare system. And it's hardworking people who would pay the price."