Len McCluskey warns unions and Labour at turning point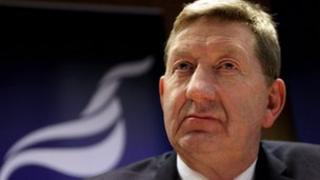 Unite's Len McCluskey says relations with Labour are "at a turning point".
The union's leader warned Ed Miliband the party should not be a "pinkish shadow" of the government if it expects Unite members to decide to join it.
He told a meeting of activists tensions had been growing since the start of New Labour, "fuelled by the failures and disappointments of Labour in office".
Labour and Unite are at odds over claims the union tried to rig Labour's candidate selection in Falkirk.
The row has seen the selection process halted, Unite threaten legal action and Labour's campaign chief Tom Watson resign from the role.
It also prompted a raft of attacks from Prime Minister David Cameron on Mr Miliband and Labour in the Commons, alleging they were being controlled by unions, who are the party's biggest donors.
'Recasting relations'
Earlier this month Mr Miliband said he planned to change Labour's relationship with unions so members would have to actively decide whether they wanted to join Labour, rather than automatically becoming affiliated party members.
He said this would strengthen individual members' links with Labour and revitalise politics. He plans to hold a special Labour Party conference next spring to decide on the change.
Several unions have predicted that ending the levy will damage Labour and lead to a large fall in the £8m it currently gets from union members' fees.
But Mr McCluskey said: "Ed Miliband has made some bold and far-reaching proposals for recasting the trade union relationship with the Labour Party. I know that some pundits were expecting me to reject them outright.
"To re-run the experience of the last generation on this issue - the party leader says something, the unions reject it and have no positive proposals of their own, the first plan goes through anyway and we look like not just losers, but conservative losers."
He said: "We have to be interested in outcomes, not processes. Why dig in behind a status quo that has not worked for us?
"The block vote didn't stop a Labour government invading Iraq. Affiliation didn't keep Labour out of the clutches of the banks and the City. Our special relationship didn't get the union laws repealed.
"So don't let anyone say that the status quo is worth defending. And don't let's be dishonest with ourselves. Before Falkirk, before Ed's announcement, there were plenty of people in this room today saying, absolutely rightly, that the relationship with Labour had to change."
Mr McCluskey added: "It is clear we are at a turning point in the historic relationship Unite and its predecessor unions have had with the Labour Party.
"This will have come as a surprise to many of you - although no-one will be shocked by the knowledge that strains in the Labour-union link have been building up for years, at least since the advent of New Labour in the 1990s."
He said his members were feeling "that for a long time we have been taken for granted by people who welcome our money, but not our policy input, who want to use our resources at election time but do not want our members as candidates".
'Real choice'
"And all this in an environment when ordinary people in all walks of life have become increasingly disengaged from and disenchanted with politics and politicians," he said.
Unite's main aim, he said, was to ensure that as many members as possible signed up individually to be affiliate members of the party.
"For that to work, and for the trade unions to put their shoulders to the wheel to make it work, the offer has to be an attractive one. Above all, that means a Labour Party that our members want to support, because they believe it can and will make a difference in their lives.
"Not a party that is a pinkish shadow of the present coalition that gives the City a veto over economic decisions and embraces the austerity agenda squeezing the life out of the country.
"A party that makes the 2015 election a real and vivid choice as to the future of our country, not one that leaves the electorate indifferent.
"I believe that Labour under Ed Miliband can be that party - a party that our members want to support because it feels like their party."
Responding to Mr McCluskey's speech, a senior Labour source said: "Under the reforms Ed has proposed, individual trade unionists will become a proper part of our party. Working people will have a real choice about joining Labour, and those that become members will be a real voice inside the party like all other members.
"Donations from any source, be they big businesses or major trade unions, will, as now, have no link with policy proposals."