Overseas aid 'must prove its value'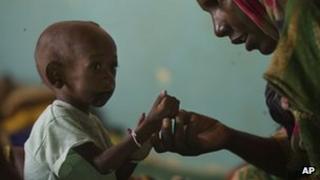 The government must make more informed decisions on how to spend UK taxpayers' money on overseas development, MPs say.
Last year, 42% of the Department for International Development's budget was spent via aid organisations.
The government said it had rigorously assessed the aid groups distributing its money and remained "determined" to get the most out of them.
But MPs said it should do more to look at whether it was better value to fund more projects directly.
The Commons International Development Committee asked for more "assurance" of value for money.
'Imperative'
When the coalition government committed to spending 0.7% of national income on international aid from 2013, it decided to hold two reviews of its aid budget - into bilateral aid, or direct aid donated for specific projects, and multilateral aid which is given to support the work of organisations, like multilateral development banks, UN agencies and humanitarian groups.
But the committee said not enough work was done to compare the two - looking at the cost-effectiveness of giving aid directly to a country through a bilateral arrangement, with that of sending aid via a third-party organisation.
Its chairman, Liberal Democrat MP Sir Malcolm Bruce, said in 35 of 39 cases monitored by the government a value-for-money study had not been completed.
He added: "It is in everybody's interests for the government to make informed decisions about aid spending.
"When the UK provides funding to an international organisation, we need to have some assurance that this is better value-for-money than the alternative.
"Comparing international organisations' work with our own bilateral aid programmes is imperative."
Rigorous assessment
The committee also said more visits should be carried out in countries receiving aid.
Sir Malcolm added: "In countries where the UK has no bilateral aid programmes of its own, monitoring multilateral organisations is a key challenge for the government.
"This is an extremely important issue, and we will return to it in our ongoing inquiry into the future of UK development cooperation."
The government said it would consider the report and respond in full in due course.
But a DFID spokeswoman said: "The multilateral aid review process, introduced by this government, provides a rigorous assessment of the value for money of multilateral agencies and is a model that has been adopted internationally.
"We remain determined to get better value for money and more effective aid from multilateral agencies."