Labour tops party funds league table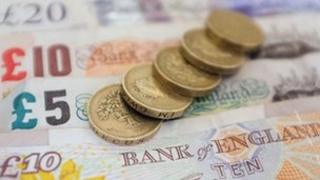 Labour remains the best-funded UK political party, reporting income of more than £33m in 2012.
Accounts for 2012 show it received more than the combined figure for the Tories, £24.2m, and the Lib Dems, £6m.
A big chunk of Labour's money came from union affiliation fees totalling £7.96m - the funding Ed Miliband plans to change in the wake of the Falkirk row.
Figures also suggest the big three parties have fewer members while Plaid, the SNP and UKIP saw membership rise.
The Electoral Commission has published the parties' 2012 financial accounts on its website showing headline figures for their income and spending for the year ending 31 December 2012.
Membership drop
The Lib Dem figures represent a slight drop in funding - from £6.2m in 2011 to £6.02m in 2012.
The Scottish National Party received £2.3m - a drop from the £5m it received in 2011, the year of Holyrood elections.
Meanwhile Labour's sister party, the Co-operative Party, received £1.18m while the UK Independence Party, which enjoyed electoral success at the English local elections in May, got £1.2m and Sinn Fein received £1.09m.
The submitted accounts show Liberal Democrat membership is down by 6,400 to 42,501, while Labour membership has dropped by 5,763 to 187,537. The Conservatives do not supply membership figures but their income from members has dropped by £116,000 to £747,000.
Meanwhile about 3,000 people have joined UKIP, swelling its ranks to 20,409, the SNP has welcomed 4,000 new joiners and now has 24,732 members while Plaid Cymru reports a membership increase of 23%.
Labour said it was making good progress in returning the party to a strong financial footing since it reported £27m debts following the 2005 general election.
It received £5.1m donations while another chunk of its income came in the form of government grants worth £6.7m - opposition parties get "Short money" to help with their costs.
In a statement from party treasurers Iain McNicol and Diana Holland, the party said there had been significant increases across various income streams - including funds from members, subscription fees and "low value" donations - amounting to nearly £8m.
"This is a key income stream representing nearly a quarter of gross revenue, yet it is often overlooked in reports commenting on the source of our funding," they said.
Leader Mr Miliband plans to change Labour's relationship with unions, so members would have to actively decide whether they wanted to join the party, rather than automatically becoming affiliated party members.
He said this would strengthen individual members' links with Labour and revitalise politics.
He plans to hold a special Labour Party conference next spring to decide on the change, announced following a row with the Unite union about alleged vote-rigging during the candidate selection process in Falkirk.
Several unions have predicted that ending the levy will damage Labour and lead to a large fall in the money it currently gets from union members' fees.