BT's Livingston attacks 'publicity seeking' committee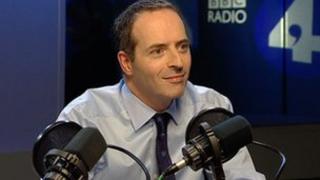 BT boss and incoming trade minister Lord Livingston has criticised the public accounts committee for courting publicity, after its criticisms of BT.
Committee chair Margaret Hodge has accused the company of "blackmailing the public" by demanding subsidies to build broadband in rural areas.
Lord Livingston said BT's programme was seen as "a real model of success".
He will step down as BT chief executive in September and has joined the House of Lords as a Conservative life peer.
He has been BT chief executive for the past five years.
Delivering BT Group's quarterly results on Thursday, Lord Livingston said: "If you watch the public accounts committee meetings, they are clearly designed to attract publicity rather than get to the underlying truth."
BT is investing £2.5bn to provide fibre-optic cables and has won contracts for £1.2bn in public subsidies to further extend its network to rural locations.
But the programme is running nearly two years late.
Lord Livingston said 90% of the UK would have fibre and, around the world, BT's programme was seen as "a real model of success".
He added: "It is just a shame that a number of people in the UK don't want to talk up the UK."
"What BT will do is continue to talk up the UK and point out we have some of the cheapest available fibre in the western world."
He said most government officials recognise BT's work as "a great success".
"In government, my remit does not cover anything to do with BT other than BT being one of the country's most significant investors and exporters."
BT's head of strategy, Sean Williams, was summoned to give evidence to the public accounts committee last week, on the company's rural broadband programme.
It was during the session that Mrs Hodge criticised BT for demanding subsidies to build a rural broadband network.