Funeral of Baroness Thatcher cost £1.2m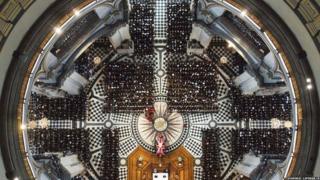 The funeral of former prime minister Baroness Thatcher cost £1.2m to stage, less than was estimated at the time.
April's service, attended by the Queen and dignitaries from around the world, had been expected to cost about £1.6m.
Newly published figures show policing costs totalled £943,833 while the fee for St Paul's Cathedral was £67,908 and for London Ambulance Service £20,445.
An undisclosed share of the cost was met by Lady Thatcher's estate, with the remainder borne by the taxpayer.
Lady Thatcher, who died on 8 April following a stroke at the age of 87, was Conservative Prime Minister from 1979 until 1990.
More than 2,000 guests from around the world paid their last respects in April at the biggest such occasion since the Queen Mother's funeral in 2002.
Thousands of members of the public and the armed forces lined the funeral procession route through London.
PM David Cameron said it was a "fitting tribute" to a major figure.
Four thousand police officers were on duty in central London but, despite concerns about demonstrations, only a small number of protesters voiced their opposition to Lady Thatcher's policies and there were no arrests.
The congregation at St Paul's included Lady Thatcher's family and all surviving British prime ministers Tony Blair, Gordon Brown and Sir John Major, the current cabinet and surviving members of Lady Thatcher's governments.
The day began with Lady Thatcher leaving Parliament for the last time as a hearse took her body from the crypt chapel of St Mary Undercroft in the Palace of Westminster to the start of the military procession at St Clement Danes in The Strand.
The union jack draped-coffin was topped with a large bunch of white flowers and a note, by Lady Thatcher's children Sir Mark and Carol, reading: "Beloved mother, always in our hearts."
A gun carriage drawn by six black horses carried the coffin through the streets to St Paul's, where the funeral service began with readings from the King James Bible by Mr Cameron and Lady Thatcher's 19-year-old granddaughter Amanda, and hymns chosen by the former prime minister.
The service ended with a blessing from the Archbishop of Canterbury, Justin Welby.
Lady Thatcher's coffin was borne out of the cathedral and returned to a hearse which took it to the Royal Hospital Chelsea and then to Mortlake Crematorium in south west London for a private cremation.
The ceremonial funeral with military honours was one step down from a state funeral.