Chris Huhne's ex-wife Vicky Pryce loses official honour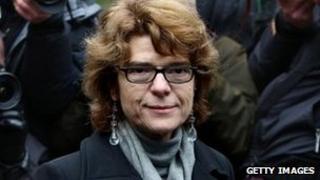 Vicky Pryce, who was jailed earlier this year for taking speeding points for her ex-husband Chris Huhne, has had an official honour removed.
The economist, who was made a Companion of the Order of the Bath in 2009, was found by a committee to have brought the honour into disrepute.
She was sentenced to eight months in prison in March for perverting the course of justice, serving two months.
Huhne, the former energy secretary, was also jailed for the same offence.
He left Pryce in 2010 as his affair with PR adviser Carina Trimingham was about to be exposed.
Resignation
During the former couple's trial, the court heard Pryce had revealed the speeding points scandal to newspapers in 2011 to seek revenge.
Pryce was made Companion of the Order of the Bath for services to economics. She was director general of the Department for Business, Enterprise and Regulatory Reform at the time.
The independent Forfeiture Committee exists to look at cases where the holder of an honour may have brought it into disrepute, such as by being sentenced to three months or more in prison.
The prime minister passed the committee's advice on to the Queen, who gave final approval for its forfeiture.
An announcement published in the London Gazette read: "The Queen has directed that the appointment of Vicky, Mrs Pryce, to be a Member of the Civil Division of the Third Class, or Companion, of the Most Honourable Order of the Bath, dated June 13 2009, shall be cancelled and annulled and that her name shall be erased from the Register of the said Order."
The speeding incident took place in March 2003 when Huhne's BMW was caught by a speed camera on the M11 between Stansted Airport, in Essex, and London.
He was an MEP at the time and in danger of losing his licence, having already accrued nine penalty points.
Liberal Democrat Huhne changed his plea to guilty on the first day of his trial in February after failing to have the case dismissed. He resigned as an MP on the same day.
Pryce was found guilty in March after a retrial. The first jury failed to reach a decision.
During both trials, Pryce accepted she had taken Huhne's points, but adopted a defence of marital coercion, claiming he had made her sign a form he had already completed in her name.