Do not touch Thatcher or Churchill statue feet, MPs told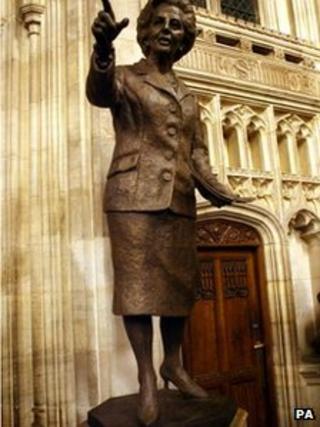 MPs have been told to stop touching a statue of Baroness Thatcher outside the Commons, a gesture said to bring good luck to those entering the Chamber.
Statues of the former prime minister and predecessors David Lloyd George, Clement Attlee and Winston Churchill are "seriously under threat" from wear and tear due to the unwanted handling.
New MPs are no longer told about the tradition of touching their toes.
And a "do not touch" sign is to be put permanently on display beside them.
The four statues in the Members' Lobby of the Commons are among the high-profile and valuable works of art in Parliament.
'Cracks and holes'
But deputy curator Melanie Unwin has warned that the historic tradition of MPs paying homage to their heroes and heroines risks "compromising the integrity of internationally important art works".
She told a meeting of the Advisory Committee on Works of Art that action was needed to protect them.
"There are now cracks and small holes on the surface of the Churchill statue and substantial loss of surface texture on other statues," Ms Unwin said.
Regular re-waxing and re-colouring was being undertaken to protect their feet, she said, and casts had been taken in case they needed to be completely replaced in future.
"Over the years, the curators' office has actively informed those in Parliament, through talks and newsletters, about the conservation issues arising from the regular touching of the statues," she added.
"New MPs are no longer told of the tradition and visitor assistants and guides are briefed not to allow visitors to touch statues during their tours."
While a "do not touch" sign has been in place for some time on days when Parliament is not sitting, the Commons Administration Committee has now agreed that it should be on display permanently.
'Discipline urged'
But the curators say they may have no choice but to erect small barriers to prevent the practice from continuing and are exploring a number of different ways of doing this.
Labour MP Frank Doran, who chairs the works of art committee, said he did not know the origins of the "strange" tradition and he hoped the publicity about the condition of the statues would encourage MPs to show "some discipline and understanding".
"It is one thing allowing MPs to continue to touch the toes of the prime minister, which they like the most, but it does cause damage," he said. "With a statue (of Winston Churchill) of that class and value in the collection, we have to take action."
The problem had been around for a long time and previous efforts to alert MPs to the repercussions had not been "very successful".
"Yes, we are thinking about barriers reluctantly," he added. "We will see how this experiment goes."
The statue of Baroness Thatcher was unveiled by the former prime minister herself in 2007.