PM's £1m fracking claim was slip of tongue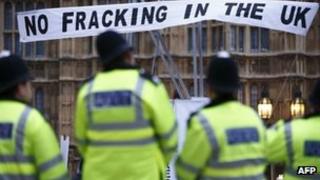 David Cameron's claim that areas which allow fracking to take place locally could "immediately" get £1m was a slip of the tongue, Downing Street has said.
The prime minister told factory workers in Lancashire that it would be a "big mistake" to miss out on the benefits offered by shale gas drilling.
But he said communities had to be sure it was safe and could get £1m upfront - and more if wells were successful.
The amount energy firms have agreed to pay when they start work is £100,000.
Fracking uses high-pressure liquid pumped deep underground to fracture shale rock and release gas.
'Fire from taps'
Environmentalists fear it can cause small earth tremors, water contamination and environmental damage.
Mr Cameron was taking questions on a range of issues from factory workers in Darwen, Lancashire, when someone asked him whether the area could expect earthquakes and "fire out of taps".
The prime minister said fracking in the US had brought down energy costs - encouraging businesses to return - while European countries were currently "missing out big time".
"I think we would be making a big mistake as a nation if we didn't think hard about how to encourage fracking and cheaper gas prices right here in the UK," he said.
But he said people had to feel fracking was "OK for them, their families and their communities" and nothing would happen "unless it is environmentally safe".
He added: "So there's no question of having earthquakes and fire coming out of taps and all the rest of it. There will be very clear environmental procedures and certificates you will have to get before you can frack."
'Fear of the unknown'
He said people had embraced fracking more in the US because they saw a direct financial benefit.
"So what we are looking at is trying to have a very simple system where every time a well is dug, immediately £1m goes to the local community and not just to the local council but actually to local people so people can see a cash benefit in their local village, in their local town and even, potentially in their local pocket as well.
"And then if that well is successful even more money should be ploughed back into the local community."
Towns or villages could eventually stand to benefit from seven-figure payments because energy firms have pledged to give them 1% of the revenue from successful wells, in addition to the £100,000 initial payment.
But Downing Street sources have confirmed that it is not correct to say local communities receive £1m "immediately".
Friends of the Earth said the PM was "simply adding to the hot air" about fracking. Spokesman Craig Bennett said: "There's plenty of evidence it won't cut UK fuel bills".
Earlier this week Energy Minister Michael Fallon defended comments about people living near gas drilling sites in which he suggested that fracking would test "how thick their rectory walls are" and "whether they like the flaring at the end of the drive".
He later said the comments were "light-hearted". It came amid protests against potential fracking in West Sussex.
Conservative MP Nick Herbert has warned that fracking is causing a "fear of the unknown" among people in rural areas while fellow Tory Eric Ollerenshaw has warned of the danger of a new "north-south divide" developing over fracking.
Liberal Democrat party president Tim Farron has said that a "short-sighted" rush to exploit deposits could cause long-lasting damage to the countryside.