Home Office monitored over Freedom Of Information delays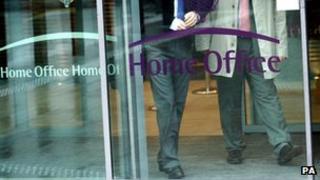 The Home Office is to be monitored for three months over concerns it takes too long to respond to Freedom of Information requests.
The information commissioner said he would be looking at its responses to FOI requests received between 1 July and 30 September.
Sussex Police and South Tyneside Council are also being monitored during the same period.
Under FOI laws a public body must reply to a request within 20 working days.
'Right to expect'
Information Commissioner Christopher Graham said: "The government has made a clear commitment towards making the UK's public sector one of the most transparent in the world.
"Responding to FOI requests within the time limit of 20 working days is an important means of achieving this objective.
"We hope that these authorities can make the improvements the public has a right to expect. We should not have to order authorities to respond to requests in time."
'Significant increase'
A Home Office spokesman said: "We recognise the importance of answering all FOI requests accurately and within time limits. We have seen a significant increase in the number of FOI requests recently - up 20% during the last 12 months - which has impacted on how quickly we have been able to respond.
"We are therefore improving our capacity to respond so that we can bring performance back on track."
The Department for Work and Pensions (DWP), Department for Education (DfE) and the Office of the First Minister and Deputy First Minister in Northern Ireland were all monitored from January to March.
The information commissioner says he is satisfied that the DWP and DfE have now taken sufficient action to deal with a backlog of requests.
But his office still has concerns about "substantial delays" at the Office of First Minister and Deputy First Minister - including one that still has not been answered after 500 working days.