Housing benefit fraud: Tory MP Stephen Barclay urges rethink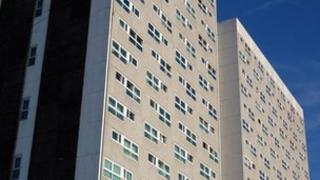 Cash-strapped councils are losing millions of pounds to housing benefit fraud and the government is not doing enough to stop it, a Tory MP claims.
Stephen Barclay says councils have no incentive to go after fraudsters and they are getting away "scot free".
He is calling for a review of the incentives offered to councils by the Department for Work and Pensions (DWP) to claw back money through the courts.
The DWP says the system has been tightened up, with tougher penalties.
Overpayment of housing benefit due to fraudulent claims has more than doubled in five years to stand at £350m a year in 2011/12, according to the DWP's own figures.
'Perverse structure'
The DWP compensates local authorities in England for 40% of any losses incurred due to fraudulent housing benefit claims.
It says councils can then pursue the full amount from the fraudster - allowing them to potentially recoup 140% of the amount stolen.
A DWP spokeswoman said: "This strikes the right balance between ensuring that councils are incentivised to do what they can to prevent fraud in the first place and giving them the financial help they need following a fraud.
"We work closely with councils to help clamp down on fraud and currently councils are recovering around 70% of the value of overpayments they identify."
But Stephen Barclay, a member of the influential public accounts committee, says too many local authorities are forced to turn a blind eye to housing benefit fraud because they are liable for 60% of the cost of the fraud - plus the cost of clawing the money back in the courts.
"Given this perverse structure, it is little wonder that councils do not think it is worth their while to pursue fraudsters and effectively allow them to make off scot-free with other people's money," he told the BBC News website.
"DWP argues that by offering councils 40% plus any amount of the fraud recouped councils could reclaim up to 140% of the amount defrauded.
"The idea that fraudsters squirrel away the full amount of their ill-gotten gains just in case the council comes knocking is plain fantasy and highlights the need for realism when it comes to dealing with this issue of value for money."
Criminal offence
The North-East Cambridgeshire MP said councils would not plough time and effort into pursuing fraudsters "if they risk losing the original amount as well as the automatic 60% penalty claimed by the DWP when it is detected".
"We therefore need to find other, less wasteful ways of incentivising councils to take action on fraud and take the time to outline why it is in everyone's best interests that fraudsters are brought to justice."
The DWP says compensating local authorities for the full amount lost to fraud would remove any incentive to pursue the perpetrators - and housing benefit is due to be phased out by 2017, as part of the move to Universal Credit.
Mr Barclay has also raised concerns about housing tenancy fraud - where council tenants illegally sub-let their homes.
Data from the National Fraud Authority shows unlawful subletting cost councils £845m and housing associations £919m a year.
Alan Bryce, of the Audit Commission. has said councils reclaimed 1,800 properties last year, mainly in London, but they are still "only starting to make a dent in the problem".
The DWP said sub-letting had recently been made a criminal offence and 62 local councils around the country had been given a share of £9.5m to crack down on the practice by setting up special investigation teams.
A DWP spokeswoman said the department was also mounting more joint investigations with Her Majesty's Revenue and Customs and local authorities through a Single Fraud Investigation Service.
One local authority in London, Camden, is currently holding a "key amnesty", allowing illegal sub-letters to hand back council-owned properties anonymously.
The council says this will aid future prosecutions, as fraudsters will not be able to "plead ignorance" of the rules.