Councils demand Whitehall tax collection 'efficiency'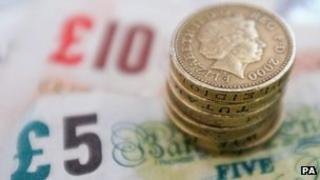 Councils have urged the government to become as "efficient" as them at collecting taxes, arguing this could make Whitehall an extra £20bn a year.
The Local Government Association (LGA) said tax shortfalls amounted to £1,370 per household in England and Wales.
Spokeswoman Sharon Taylor said councils had higher collection rates and central government had to "do better".
But HM Revenue and Customs said the LGA had not properly understood the nature of taxation.
The LGA said central government was missing out on 6.75% - or £32bn - of the tax it should be collecting every year.
'Paying the price'
Of this, £14bn was lost because of tax evasion, with tax avoidance accounting for £5bn, non-payment for £4bn and "errors" for £2bn.
In contrast, it added that councils had last year collected 97.5% of the council tax and business rates due to them.
Ms Taylor, chairman of the LGA's finance panel and Labour leader of Stevenage Borough Council, said: "If central government's collection rates were as good as those of councils, the public purse would be more than £20bn better off."
She added: "Local government is the most efficient part of the public sector. Council tax has one of the highest collection rates of any tax.
"We cannot afford for local services like road maintenance, libraries and social care to continue paying the price of those who evade and avoid their tax liability. We all need government to do better in tackling this."
But an HM Revenue and Customs spokesman said: "The LGA have fundamentally misunderstood the nature of the tax gap which is not a measure of tax unpaid.
"In fact HMRC already collects 99% of all taxes and duties which are collectible from a very wide customer base of 60 million taxpayers, increasing our tax take by £1.4bn to £475.6bn in the last year alone. On average we collect £1.3bn a day for the UK."