BJP's Narendra Modi needs to be heard, say British MPs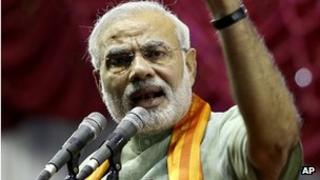 Controversial Indian politician Narendra Modi has been invited to address MPs in the House of Commons.
Tory and Labour MPs have defended their decision to invite Mr Modi, leader of the main opposition BJP, to speak, saying he needs to be heard.
He has overseen significant economic growth as chief minister of the state of Gujarat.
But he is regarded by his critics as failing to intervene in communal violence in the area 11 years ago.
At least a thousand people, mainly Muslims, were killed in the state, in three days of violence that followed an attack on a train, which was initially believed to have been carried out by people from the Islamic community.
'Key player'
Three Indian investigations have failed to hold Mr Modi, whose Bharatiya Janata Party espouses Hindu nationalism, responsible for what happened.
Barry Gardiner, Labour MP for Brent North, has defended the invitation to the politician to address MPs on "the future of modern India".
Mr Gardiner said: "This is a man who has been re-elected three times as the chief minister of the state in India with which Britain does the most business. In fact, we do more business with Gujarat than with the rest of India put together.
"He is now the leader of India's official opposition party. He is obviously a key player in Indian politics, and as such he is somebody British politicians need to hear from."
Shailesh Vara, Conservative MP for Cambridgeshire North West, has also invited Mr Modi to speak to a group of MPs in Westminster.
"I am aware that Mr Modi is controversial, but I am also aware that over the years there have been three inquiries, and that none of them have found anything against him," he told the BBC's Asian Network.
'Genocidal attacks'
However, an online campaign to protest against the invitation has attracted support.
Kalpana Wilson, of the South Asian Solidarity Group, strongly disagrees with the invitation.
"[They] have invited somebody to address the House of Commons who has been responsible for what can only be called genocidal attacks in which more than two thousand members of the Muslim minority community in Gujarat were targeted for the most horrendous forms of violence and were murdered," she said.
"Women and children were particularly targeted, and this is something which South Asian communities in Britain simply are not able to forget.
"We're not prepared to see Modi being rehabilitated as a respectable leading politician, which is what this invitation seems to suggest."
'Prospective prime minister'
Mr Modi's invitation has been popular with some in the business community, including Subhash Thakrar, of the London Chamber of Commerce.
He said: "India is a democratic state with a rule of law. The Supreme Court was involved in investigating these matters.
"He has got the strongest opposition you can imagine in the [governing] Congress party. The media also have attacked him at various times. If they haven't succeeded in producing solid enough evidence, then who are we to argue? Let India sort its problems.
"Our problems are economic growth and economic ties with future leaders with various leaders across the world.
"If he is a prospective prime minister, which he is, we need to make sure that he is well connected with us before other countries do it. "