Gibraltar row: Chief minister is sent death threats on Twitter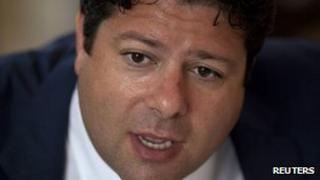 Gibraltar's chief minister says he has received death threats on Twitter after criticising Spanish border controls.
Amid tensions over the UK territory, over which Spain claims sovereignty, Fabian Picardo is the second politician targeted by Spanish Twitter users.
Gibraltar MEP Julie Girling was hit by a stream of offensive messages after suggesting UK tourists boycott Spain.
The row began after Gibraltar created an artificial reef which Spain says will disrupt fishing.
Spain has tightened border controls with the British overseas territory although it denies that was done in retaliation for the reef.
The Foreign Office is lodging a formal complaint with Spain over the ensuing "unacceptable" delays at its border with Gibraltar and David Cameron has asked the EU Commission to send a monitoring team to gather evidence on them - arguing they are contrary to EU rules on free movement.
'Extreme reactions'
Mr Picardo said on Friday: "I think social media is a great thing, but it also has a very negative aspect to it, which is people can use the cloak of anonymity to insult people and to say things that reasonable human beings don't say about each other.
"I have had some extreme reactions to things I say.
"I have even had death threats against my family by Twitter."
Meanwhile Mrs Girling, Conservative MEP for the South-West of England and Gibraltar, says she has been "taken aback" by a torrent of offensive tweets after she urged her constituents "to consider taking their summer holidays elsewhere this year - Spain is not on our side".
In the past few days hundreds of lewd and "very offensive" messages on Twitter and via email have been sent, many in Spanish, some describing her as a "bitch" or "Nazi".
Others have suggested, in racist terms, that she try holidaying in India, suggesting she was "too ugly 2 visit Spain anyway".
The Conservative politician, who also represents the South West of England in Brussels, has found Twitter a useful way of communicating with people in her rather far flung constituencies and said she would not be put off using it.
But she said: "This really gives you a sick feeling in the stomach. It's horrible.
"Some of the language is very offensive and completely off the point. I'm trying to protect the rights of my citizens who vote for me in Gibraltar."
A number of prominent women have recently been targeted online by anonymous abusers, or so-called "trolls", including Labour MP Stella Creasy and feminist campaigner Caroline Criado-Perez.
Mrs Girling told the BBC the "really abusive" tweets were "almost all, as far as I can see, from men".
"They make some kind of sexual or personal comments about my appearance - it's like playground stuff but you don't expect to get that when you are a middle-aged woman.
"There is a misogyny in there - I just thought we had left that behind. Twitter is really exposing this, I think. There's a deep-rooted hostility to women in parts of society which is really unpleasant."
Meanwhile, drivers trying to get into Gibraltar from Spain have been facing waits of several hours. Downing Street has said legal action would be launched against Spain over the border checks.
Spain's director general for foreign affairs Ignacio Ibanez has accused the Gibraltarian authorities of failing to control smuggling.
He told the BBC this week it was up to the British government to intervene with the Gibraltarian authorities to get the artificial reef, which Spain says is in a conservation area, removed.