Chuka Umunna holds zero-hours 'summit'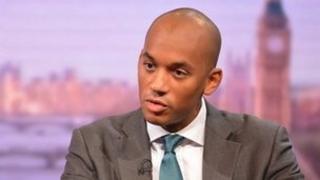 Labour is holding a summit to discuss options for clamping down on zero-hours contracts.
Hundreds of thousands of British workers are on such contracts, from shops and fast food outlets to local authorities and hospitals.
They allow employers to hire staff with no guarantee of work.
Shadow Business Secretary Chuka Umunna says such casual contracts pay 40% less than regular contracts and promote job insecurity.
He said a future Labour government would not ban zero hours contracts but he was exploring ways of reducing their use, such as establishing a statutory code of practice or forcing employers to offer workers permanent contracts after a certain period.
He said: "The huge spike in the use of zero-hours contracts has brought increased reports of abuses and bad practice. There should be zero tolerance of such abuse."
Mr Umunna has brought together representatives from business groups and trade unions to discuss the best way to prevent the abuse of such contracts.
He has also written to Sir Andrew Dilnot, chairman of the UK Statistics Authority, to raise concerns that official figures do not reflect their true scale.
The Chartered Institute of Personnel and Development has estimated a million British workers could be on zero-hours contracts - four times the number estimated by the Office for National Statistics.
Mr Umunna says he will set out specific proposals to tackle the abuse of zero hours contracts next month.
The government says it is also concerned about the potential abuse of zero-hours contracts by some employers and will decide in September whether to hold a formal consultation on possible changes to employment laws covering them.