Farage has too much power in UKIP, says ex-chief executive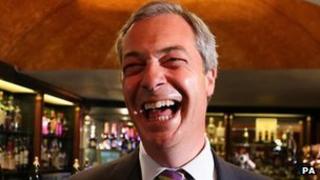 Nigel Farage must have less power over the UK Independence Party if it is to achieve its full electoral potential, says its departing chief executive.
He was a great orator but UKIP should not think "it's all about Nigel", Will Gilpin told the Daily Telegraph.
He said he left because he was blocked from professionalising the party.
UKIP, which campaigns for the UK's exit from the EU said Mr Gilpin had introduced new party structures and left "with a great deal of warmth".
But it did not comment further on his remarks about Mr Farage.
'Enthusiastic amateurs'
Mr Gilpin spoke to the Daily Telegraph following the announcement on Monday that he was leaving his post by mutual agreement.
The former RAF fighter pilot, who also worked in IT for the Home Office and Metropolitan Police, was hired in December 2012 to professionalise UKIP's behind-the-scenes set-up.
But the Telegraph reported that he had been blocked by Mr Farage and his circle from making changes to formalise UKIP rules that would have made them more accountable to members.
"The leap from being a small group of people who have fun and do what they want to being a professional political party was too much," Mr Gilpin said.
"The party has decided it likes things the way they are - so UKIP remains a bunch of enthusiastic amateurs having a good time, rather than the professional fighting team they could be."
He also told the newspaper: "The thing I am most shocked by is that Nigel does his own thing without the party knowing where he is or what he is doing... Nigel is a great orator and a useful man for the party but you have to use him in the scope of the wider organisation, rather than thinking 'it's all about Nigel'."
"Nigel would see the party as being about him. The party is structured like a flying wedge, pushing Nigel forward."
He said updating the party would inevitably mean reducing Mr Farage's influence: "Nigel has to have less power."
'Very uncomfortable'
News that Mr Gilpin was leaving his post as chief executive "by mutual agreement" emerged on Monday - party sources said Mr Gilpin wanted to return to corporate IT, suggesting it was something he was "far better suited to".
The source said Mr Gilpin was not suited to working with a small organisation, which relies on volunteers and whose "DNA is individualistic".
The party did not respond directly to his comments about Mr Farage but said Mr Gilpin had left "with a great deal of warmth" adding: "He has worked hard to provide the structures that he was asked to provide and which proved very uncomfortable to some in the party. He has been very successful and we wish him all the best."
Mr Farage is known for being a confident media performer and an outspoken MEP - once telling the president of the European Council he had the "charisma of a damp rag".
His party, which has no MPs but 11 MEPs, including Mr Farage himself, performed well at local elections in England in May, gaining about 25% of votes in council seats it contested.
It added to pressure on David Cameron to strengthen his commitment to hold an in-out referendum on Europe, should the Conservatives win an outright victory at the 2015 general election and has since seen them perform well in national polls.