Private members' bills need a better hearing, say MPs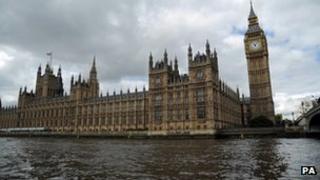 Parliamentary bills from individual MPs must get a better hearing to prevent the Commons from becoming a government "sausage factory", a report has warned.
Private members' bills should no longer be chosen by ballot for debate but by the number of MPs' signatures gathered, the Procedure Committee recommended.
They should each get a "timetable" to ensure proper discussion, it added.
The committee also suggested renaming them "backbench bills", saying MPs had shown a "clear desire" for change.
Private members' bills have specific days allocated to them for debate but have little chance of becoming law because of the lack of time available.
Some do become law when backed by the government, but even those that do not survive are often regarded as a useful means of raising issues not dealt with otherwise.
'Degraded'
The Procedure Committee's chairman, Conservative MP Charles Walker, said: "The ability of any member to bring forward a legislative proposition, and to have it debated, is the clearest indication that so far as legislation is concerned the House is not a mere sausage machine, churning out endless bills introduced, timetabled, amended and whipped through by the executive.
"Yet over a period of many years the House and its members have allowed this important aspect of its procedures to be devalued and degraded. The weight of evidence which we have received demonstrates a clear desire across the House for change."
The report said procedures for choosing bills to be debated were "confusing, misleading and opaque".
Private members' bills are currently selected by ballot, a matter of luck.
But the committee said the Commons should get a vote on changing the system, so that the backbench MPs who get the most signatures from their colleagues are guaranteed a debate.
The committee also suggested "timetabling" or "programming" private members' bills, as happens with government bills. It complained that the current unregulated system of a few fixed Fridays allowed "a small number of opponents to filibuster and so prevent a bill from being voted on".
'Prime time'
It offered two options. Either private members' bills could automatically be given two and three-quarter hours of debate time - meaning two were discussed on a Friday - or such a timetable could be applied only to a limited number of bills, to be decided on by MPs on a case-by-case basis.
The report stated: "Filibustering - that is, talking at length to ensure that a bill runs out of time, which can be done without formally breaching the rules of the House -skews debate and prevents proper scrutiny and discussion by discouraging supporters of a bill from contributing to debate.
"And the inability to bring a bill to a decision brings the House and its procedures into disrepute in the eyes of the public."
The crucial Commons vote on a bill, at third reading stage, could be moved forward from the traditional Friday, when few MPs are normally at Westminster, into a "prime time" slot to allow better scrutiny, the committee said.
Other debates should remain on 13 Fridays across the parliamentary year, it added.
Also, the government must be compelled to give a view, as soon as private members' bills get to Parliament, to indicate whether they are "genuine" backbench offerings rather than mere "handouts" from ministers.
Mr Walker said: "The reforms of the private members' bill process put forward in this report are not intended to make it easier for a private member's bill to become law.
"What they are intended to do is to ensure that serious legislative propositions are treated seriously. The private members' bill procedures are important to the House in both practical and symbolic terms. They help to demonstrate that it is an independent legislature. It is time to ensure that they are enabled to do just that."