Orde backs UK's decision to stay part of European Arrest Warrant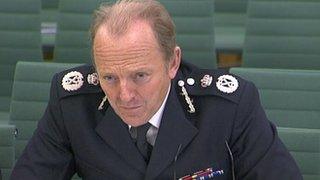 The European Arrest Warrant is an "essential weapon" for tackling serious crime and must be retained, one of the UK's most senior policemen has said.
Sir Hugh Orde said he backed the UK's decision in July to remain a member of the scheme while opting out of other EU justice and home affairs powers.
He told the Home Affairs Committee that the benefits of the warrant "vastly outweighed" the difficulties with it.
But Tory MP Michael Ellis said the system must be made more proportionate.
He said it was an "absurd situation" that someone could theoretically be extradited for an offence that might well end up with them receiving a £50 fine - adding that the terms of the UK's extradition arrangements with other countries were more balanced.
Home Secretary Theresa May announced before the summer recess that the UK would opt out of all 133 EU law and order measures in the Lisbon Treaty and seek to rejoin 35 of them - including the European Arrest Warrant - "in the national interest".
'Proportionality clause'
Many Conservative MPs wanted to withdraw from the warrant, designed to fast-track extradition of criminal suspects across the European Union, believing the system was too bureaucratic and was being misused to pursue trivial offences.
Ministers have said they will press for minor crimes to be excluded as part of reforms to the warrant, with increased protection for UK citizens wanted for extradition elsewhere among the EU's other 27 member states.
Sir Hugh, head of the Association of Chief Police Officers, said he would back changes such as the introduction of a "proportionality clause" to exclude minor offences, where extradition served no purpose in terms of the cost involved.
But he added: "In broad terms, we would see the benefits of staying in as vastly outweighing the small number of individual cases.
"We see the need to have that facility available to arrest people, put them in front of a court, remove them to the county they are fleeing from as quickly as we can.
"A burglar from France will probably be burgling communities in this country if he is wanted over there."
Labour's Keith Vaz suggested the police were powerless to deal with so-called "Easyjet crime", where people arrived on flights from other EU countries, committed a crime and left by plane the same day without being detained.
Mr Vaz said the UK could opt into as many EU powers as it liked but without exit checks recording who had left the country, this kind of criminal activity could not be properly tackled.
"Even if you opted into all these arrangements, it does not mean you can stop criminals leaving the country."
Ministers want to reinstate exit checks at airports and other points of departure but are unlikely to have done so fully by 2015.
Sir Hugh said the powers at the police's disposal were "not perfect" but the UK's membership of crime-fighting agencies like Europol and Eurojust meant that those with serious convictions could be barred from entering the country.