Why not? Minister's wife defends working for husband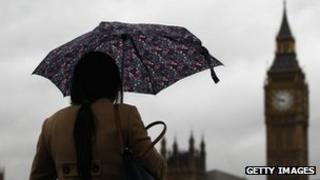 The wife of a government minister has defended the right of MPs to employ their spouses.
Eve Burt, office manager for husband Alistair Burt, said it was "practical".
According to figures released on Thursday by expenses watchdog the Independent Parliamentary Standards Authority (IPSA), 155 MPs employ someone with the same family name.
Typical pay for an office manager ranges between £25,000 and £39,999 a year, although some MPs pay more.
Mrs Burt earns between £35,000 and £39,000 working for the Conservative foreign office minister in his Parliamentary office.
'Hectic schedule'
She told BBC Radio 4's Today programme husbands and wives were "legally within our rights" to work for their spouses.
She denied it was a way of supplementing a politician's household income.
"Money would be coming into my household from another job if I did one," she said, adding: "Are MPs' families not allowed to earn salaries?"
She said the spouses deserved their salaries due to the "hectic schedule" and unusual working hours at Westminster.
"I think it's done so much because it is very practical," she added.
"You don't actually have many jobs which have quite such oddly structured hours and I think that's why families find it quite useful."
Politicians have been criticised in the past for employing close relations and the idea of banning the practice was mooted in the wake of the expenses scandal.
Sons and daughters
Instead the rules were tightened up and MPs can now only employee one close relative with strict provisos attached.
BBC political correspondent Ben Wright said the number now employing family members had since fallen from around 250.
But, as the IPSA figures show, it is still far from unusual, with many MPs employing their sons or daughters rather than their spouses.
Tory backbencher Nadine Dorries' daughter Philippa was among the highest earners on £40,000 - £45,000 as office manager.
She is now believed to have left to train as a lawyer, but her sister Jennifer has been taken on as senior secretary with a salary of £30,000 - £35,000.
Conservative backbencher Peter Bone pays his wife Jeanette - often given a humorous name check as "Mrs Bone" in her husband's speeches - between £45,000 and £49,999 to be his office manager.
Fellow Tory backbencher Christopher Chope pays wife Christine a similar amount to be his secretary.
No claims
As well as revealing the number of MPs who have family members working for them, IPSA's annual report showed the expenses bill was slightly up on last year.
When staff costs are added, the expenses bill for the year to April was £98m, 7% higher than last year.
Other details released by Ipsa showed that MPs handed out £13,163 in "reward and recognition" payments to 49 staff members last year.
The rules give politicians discretion to distribute "reasonable" sums when employees have performed well - although family members are not eligible.
Tory backbencher Mark Pritchard gave one member of staff £750, while fellow Conservative Brooks Newmark shared £1,800 between three people.
Overall, biggest expenses claimant in the period covered by the report was North Antrim DUP MP Ian Paisley Jr, who received £100,204 in constituency, accommodation and travel expenses.
Conservative MP for Shrewsbury and Atcham, Daniel Kawczynski, claimed the most on accommodation - £26,982 - followed by Rochdale Labour MP Simon Danczuk who claimed £26,939.
The DUP's Jim Shannon claimed the most on staff costs - £157,648 - followed by Labour MP and shadow business secretary Chuka Umunna, who claimed £155,434.
Alistair Carmichael, Lib Dem MP for Orkney and Shetland, claimed the highest travel expenses, £45,047, followed by Ian Paisley Jr £45,039.
One MP - Conservative Zac Goldsmith of Richmond Park - made no claim, while Conservative MP and business minister Michael Fallon received just £38.74 and Conservative MP for Windsor Adam Afriyie £604.20.