Cameron is going to be Tory leader for 'very long time' - Clarke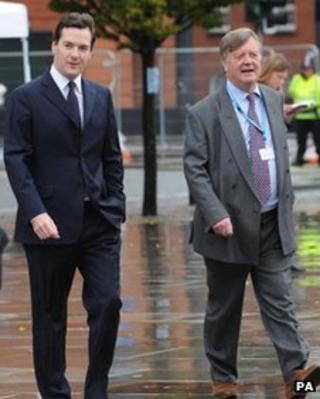 Pretenders to the Conservative leadership should "cool it", Ken Clarke has said, as David Cameron is going to be around "for a very long time".
Mr Clarke, who stood for the leadership himself three times, said there was not going to be "a vacancy for some years".
Labour are "unelectable" and the chances of Mr Cameron being prime minister after the next election in 2015 were "steadily improving".
He also warned about an "isolationist" strain among the British public.
The former chancellor and justice secretary is now a minister without portfolio in the coalition government.
Speculation about who might eventually succeed Mr Cameron as Conservative leader has centred around the long-term ambitions of London Mayor Boris Johnson but home secretary Theresa May and education secretary Michael Gove have also been tipped as possible contenders.
'Playing a blinder'
Speaking earlier this month, Mr Johnson said he would wait for something to "crop up" after his second mayoral term ends in 2016 amid talk he could seek to return to Parliament as a precursor for a future tilt at the leadership in the event of Mr Cameron standing down.
But Mr Clarke urged Mr Johnson and others who may hold leadership ambitions to be careful.
"I gave some advice to Boris at last year's (party) conference and my advice to him was that if he has an interest in the leadership, he should cool it," he told journalists at a Westminster lunch.
"There is not going to be a vacancy for some years. David Cameron - with all the usual good luck and health - is plainly good for a very long time.
"It is not particularly corny to say the chances of David Cameron being prime minister after the next election are looking better than they have looked ever since we got in.
"At the moment they are steadily improving."
The 73-year old MP, who has yet to decide whether he will stand again himself for Parliament in 2015, said Mr Cameron was "in the happy position of having an unelectable opposition".
'Economic benefits'
Chancellor George Osborne could be a "contender" for the top job in future, Mr Clarke acknowledged, adding that the chancellor was "playing a blinder" in managing the economy.
Amid a debate in the coalition about how solid the recovery is - Mr Osborne has said the UK has "turned a corner" but other ministers have warned against complacency - Mr Clarke said the government would still have to do "some quite unpopular things".
"We have not solved the deficit problem, we are not out of the banking crisis yet.
"But we are going in the right direction and it is beginning to show.
"The benefits for ordinary people have still to come through but the only way we can get real benefits for ordinary people is for the economy to succeed."
Turning to international affairs, Mr Clarke - one of the most pro-European voices in the government - said the UK's influence in trade negotiations with countries such as the US and Japan would be "comically slight" if it decided to quit the EU.
'Better off'
The prime minister has said a referendum on UK membership will be held by 2017 if the Conservatives win the next election and he has renegotiated powers - a move seen partly as an attempt to blunt the appeal of the UK Independence Party, which campaigns for EU withdrawal.
While it would be possible to secure "desirable reforms" in future negotiations about the UK's membership - as Mr Cameron has vowed to do - Mr Clarke said the EU was "where a great deal of the action takes place that matters to our well-being".
"Our argument has not got to be about grand projects but about why Mr and Mrs British Citizen are better off with Britain exerting its role properly in the European Union."
"We can't start electing people to the European Parliament whose only mission in life is to be hostile and aggressive and wish to leave it and take us into the splendours of isolation."
Britain must continue to play an active role in the EU and other institutions such as the UN and G8, he added, since engagement was necessary to "look after the interests, safety and well-being of its citizens".
"The isolationism spreading through sensible members of the public is really quite a problem," he added.
"The guy in the Dog and the Duck who tells you 'why are we bothering with all this, why should we get mixed up in all this, why do we belong to these funny foreign organisations', is not actually furthering the interests of himself, his neighbours or his fellow citizens".