Lib Dems: Nick Clegg rejects Oakeshott's election warning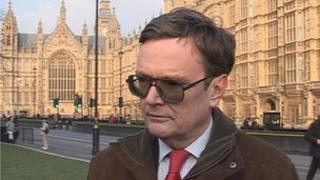 Nick Clegg has brushed off a suggestion by a leading internal critic that the Lib Dems should consider ditching him as leader to avert electoral disaster.
Lord Oakeshott, an ally of Vince Cable, said Mr Clegg's personal ratings were "very poor" and the party had to break with the Tories as soon as possible.
Mr Clegg said the peer always attacked him "at this time of year" and his leadership was not under threat.
The party is gathering in Glasgow for its annual conference.
Mr Oakeshott was also slapped down by Mr Cable, who described the peer's intervention as "seriously unhelpful".
The business secretary told the Telegraph: "Matthew is an independent minded member of the House of Lords, with his own views. He does not speak for me."
Senior Lib Dem minister and Clegg ally David Laws this week insisted the coalition would continue "up to the wire" before the 2015 election.
But Lord Oakeshott warned this could spell electoral ruin for the party and it should split from the Conservatives as early as next May to convince voters it had a clear policy agenda of its own.
'Disastrous'
He told The House magazine: "We need to face facts, there's quite a lot of complacency going on and self-delusion going on. We are likely to lose seats."
Lord Oakeshott, who has backed business secretary Vince Cable as the party's next leader, said the Lib Dems had to "disengage" with the coalition "well before the next election, sixth months to a year before".
Asked how he sees the coming year, he replies: "The prospect is not good. It's disastrous if we are seen as a tin can tied to the Tories' tail in 2015."
He added: "Let's be objective; we have to accept that Nick's ratings are very poor and have been for a long time."
He did not directly call for Mr Clegg to be ousted, but said the party had to think about whether it would do better under a new leader, as some opinion polls have suggested.
"These are things people have to think about given how sensitive the number of our seats will be. It's for the party to decide."
'Like clockwork'
Mr Clegg shrugged off the attack in an interview with BBC Radio Hereford and Worcester.
"He tends to always do so like clockwork at this time of year. When it's conference and the weather turns bad, up pops Matthew Oakeshott with some disobliging remarks about me," said the Lib Dem leader.
Asked whether he would still be the leader of the party at the time of the next election, Mr Clegg replied: "Absolutely, because I've set out what we're going to do as a party - which is see this government through, deliver what we said to the British people."
He has admitted there are "differences" between Lib Dems that will surface in conference debates but he insists the party is united.
He is expected to urge activists to be "proud" of the role the party has played in turning the economy round.
Mansion tax
He told The House magazine: "As a party we have held our nerve and proved ourselves as a confident and competent party of government, remaining united and firm while making tough choices which are right for the country."
It comes as party president Tim Farron, another man touted as a possible successor to Mr Clegg, called for the restoration of the 50p top tax rate and making the Lib Dems' proposed "mansion tax" much costlier for the very rich, in an interview with the London Evening Standard.
He refused to be drawn on whether he would prefer a coalition with Labour after the next election, telling the Evening Standard: "It's not about whether you agree with one side more than the other, it's about what would make certain things more achievable."
Earlier this week, Mr Farron said he "really liked" Labour leader Ed Miliband in an interview with the New Statesman, saying: "I don't want to diss him. I don't want join in with the Tories who compare him to Kinnock."