Lib Dem conference: Nick Clegg launches million jobs campaign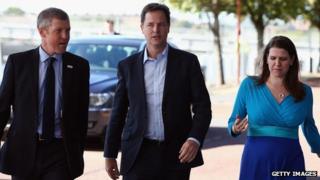 Nick Clegg has claimed the Lib Dems are the "only authentic party of jobs" in a speech to his party's annual conference in Glasgow.
The Lib Dem leader attacked the Tories as the party of "fire-at-will" claiming he stopped them passing laws making it easier for firms to sack staff.
And he claimed Labour looked "disappointed" when unemployment figures went down.
The Lib Dems have launched a campaign to create a million jobs.
With the party still languishing in the opinion polls and less than two years to go to the next election, Mr Clegg wants to fire activists up by highlighting what they have achieved in government.
'Bizarre idea'
He said they had a "proud" story to tell on jobs and the economy, claiming credit for the creation of a million new private sector jobs since 2010.
He vowed to push in government for the creation of a million more jobs and promised more action on apprenticeships and training for young people.
And he took aim at the Lib Dems' coalition partners, saying: "The Conservatives have a bizarre idea that to create more jobs you need to increase insecurity. They aren't the Party of Jobs. They are the Party of Fire At Will."
He said the Lib Dems had blocked proposals "dreamed up by a Tory donor" to make it easier for companies to get rid of staff.
But he also turned his fire on Labour, saying: "Have you noticed how miserable they look when unemployment goes down?
"In the same way they gambled on an endless boom when they were in government they prayed for an endless recession when they were in opposition."
He said some in the party wanted him to be "nicer" to Labour - something he would do when Ed Milband and Ed Balls "apologised" for what he claims was their mishandling of the economy when in power.
Lib Dem President Tim Farron, a leading voice on the left of the party who backs a return of the 50p top tax rate, also took aim at the Tories, in a speech opening the conference, warning that their economic policies could lead to a new housing bubble.
Mr Clegg faces a potential showdown with the left of his party on Monday, over a motion backing the government's economic strategy.
He is due to speak in the debate - something few Lib Dem leaders have done - at the risk of a high profile defeat.
Meanwhile, speaking ahead of the conference, Business Secretary Vince Cable said he would press for a rise in the national minimum wage to help the lower-paid.
Wages 'suppressed'
In a Guardian interview, he said many workers had seen a loss in real terms of between 10% and 12% since 2008.
The minimum hourly rate will rise to £6.31 for staff aged 21 and over after 1 October.
Mr Cable told the Guardian he would ask the Low Pay Commission to restore the minimum wage value to keep up with the cost of living and suggested national insurance contributions paid by companies could be reduced to ensure employers were not at a disadvantage.
He said the UK could not "go on forever in a low-pay and low-productivity world in which all we can say to workers is 'you have got to take a wage cut to keep your job'."
Mr Cable said: "We have got to enter into a different kind of workplace. For a very long time, five or six years, wages have been suppressed in low wage sectors. I am sending a signal that we are entering a very different environment."
He also said he was "determined to do something" to end the "abuse" of zero-hour contracts, which allow employers to hire staff with no guarantee of work.
His comments came as another senior Lib Dem minister suggested easing pay restraints in the private sector to mirror the improved economy.
Treasury Chief Secretary Danny Alexander told the Daily Telegraph: "It's not for me as a treasury minister to start telling employers what their pay policies should be, that's a matter for firms.
"But of course, as growth returns to our economy and we see businesses being successful, the workforce will want to and should share in that success."
Mr Alexander made it clear that public sector staff would face several more years of frozen wages.
Internal party poll
In another interview timed with the conference, Home Office minister Jeremy Browne welcomed Britain's borders opening to workers from EU countries like Poland, saying it boosted the economy and transformed foreign relations.
In an interview with the New Statesman magazine, he said he was relaxed about any new influx when restrictions were lifted in January on workers from Bulgaria and Romania.
Mr Browne said: "They're only complying with the same rules as British people who live in Spain or have holiday houses in France, or who work in Germany."
As the conference opens, an unpublished internal party poll has suggested that three quarters of voters will not support the Liberal Democrat party whatever it does.
A senior Lib Dem source said the party believed Mr Clegg personally enjoyed strong support among the remaining quarter of voters.
The party would have a "clear focus" on that 25%, the source said, although in the long term it would like to grow its "market".
Insiders also argue that winning target seats is what matters.
The admission that they do not expect to command majority support follows recent comments by Mr Clegg on LBC Radio.
The deputy prime minister acknowledged it was "unlikely" his party would win a majority at the next general election.
The Lib Dems won 23.6% of the vote at the 2010 general election.
The party's standing in the polls topped 30% during the brief surge of "Cleggmania" after the first prime ministerial debate.
By way of historical comparison, the high point for the SDP-Liberal Alliance was a monthly poll average of 33% in September 1985.
The Lib Dem leadership expects some dissent from activists - as is typical at conference - but believes it will win a key vote on economic policy on Monday.
The party was not afraid to have disagreements in open at conference, said the source, and it was united and resilient overall.