May rules out illegal immigration amnesty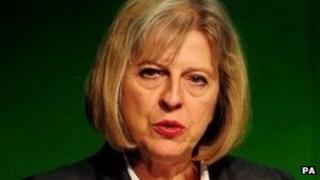 Home Secretary Theresa May has quashed calls for an amnesty for illegal immigrants, arguing this would give "people the wrong message".
Some prominent Conservatives, including London Mayor Boris Johnson, have suggested the change, saying it could boost the economy.
But Mrs May told The House magazine many communities felt illegal immigration was "very clearly wrong".
But the government was "constantly looking at" its policies, she said.
Speaking ahead of the Conservative Party's annual autumn conference, which begins in Manchester on Sunday, Mrs May was questioned about the Home Office vans bearing the slogan telling illegal immigrants to "Go Home or Face Arrest", which were tried out recently for a pilot scheme in London.
'Doing something'
The Liberal Democrats complained about the use of language, adding that they had not been consulted over their deployment.
Mrs May said: "Obviously on the vans, that was a pilot that we did. We will evaluate the impact of it to look for the future. But I think the important thing for many members of the public was that something was being done. There was a recognition that there was a need to deal with illegal immigration."
On immigration generally, she said people could "see the figures coming down", adding: "I also think people are keen to see that action is being taken to prevent abuse. So the message that actually in the student system, we've had a significant impact on that. We've really worked hard to reduce abuse in the student system. We still have to work at it."
Mrs May, who has been home secretary since the coalition formed in May 2010, said: "One of the lessons I learned fairly early on about immigration is you can't just make a policy change in one area and then leave it.
"You have to constantly be looking at it in order to make sure that what you've done is enough. And then of course people will be keen to see that we are ensuring that people here illegally are being removed."
For several years Boris Johnson has suggested an amnesty, which he argues would bring people into legal work and increase the government's tax take.
But Mrs May said such a policy would not appeal to settled ethnic minority groups in the UK.
She told The House: "There will be many communities here in the UK who themselves feel very clearly that illegal immigration is wrong, particularly if you are thinking of somebody who has come here legally but feels that people get the wrong message about immigration because of illegal immigration, then obviously I think you want to make sure the government is dealing with it."
She added: "I think if you have an amnesty, what you are likely to end up with is not a situation which helps with the control of immigration, but a situation where more people try to come to the UK illegally because the message you're giving is that at some stage that's going to be OK. And that's the problem with the amnesty."