Government to amend lobbying regulation plans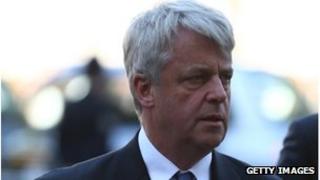 The government has proposed a series of amendments to its lobbying bill, after charities and voluntary groups raised concerns they could be gagged.
Ministers want to cap the level of spending organisations other than parties can pay out on political campaigning around elections.
Some groups have said this could have an adverse impact on their activities.
House of Commons Leader Andrew Lansley said the amendments, exempting some events, would make things "clearer".
The Transparency of Lobbying, non-Party Campaigning, and Trade Union Administration Bill, published in July, would set a £390,000 cap on the amount any organisation except political parties could spend on political campaigning - helping parties or candidates - across the UK during elections.
The government said this was needed to curb the influence of unaccountable groups on contests.
But charities and voluntary organisations complained this would undermine their freedom of speech and the Commons Political and Constitutional Reform Committee said the reforms were "flawed" and "unnecessarily rushed".
'Listened and acted'
The government tabled a series of amendments earlier this month, but it has now added some more.
The latest proposed changes include specifying that only activity which could "reasonably be regarded" as trying to "promote or procure the electoral success" would be covered by the legislation.
Events run by organisations specifically for their own members, rather than outsiders, would be exempt.
There would also be an exemption for annual events, such as an organisation's annual conference.
The amendments will be tabled on 8 and 9 October, when the bill is discussed at its "report stage" in the House of Commons.
Mr Lansley said: "It remains the case that it has not been - and is not - the government's intention to change the substantive test of what is expenditure for electoral purposes."
The government has held talks with the Electoral Commission and the National Council of Voluntary Organisations (NCVO).
Mr Lansley said: "We have listened and acted, as I said we would do. I am confident that these changes will ensure that the concerns raised about the effect of the bill on campaigning activities of charities have now been met.
"In doing so, the Bill will continue to meet the necessary objective of giving transparency and proper regulation wherever third parties seek to have an influence directly on the outcome of elections."
The NCVO's director of public policy, Karl Wilding, said: "The government made a commitment to ensure that normal campaigning is not inadvertently impacted by this rushed legislation.
"We will be taking legal advice on the proposed amendments when they are published to determine whether they have met this commitment."
For Labour, shadow Commons leader Angela Eagle said: "David Cameron has been forced in to making amendments to one small part of the bill, but we are clear that this is no way near enough.
"Labour remains concerned about a wide range of the bill's proposals which would have a chilling effect on the quality of our national debate."