Churchill's tip to cleaner revealed among artefacts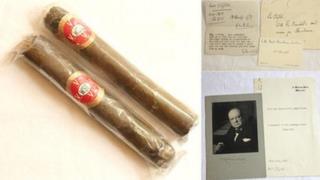 Five shillings at Christmas and £1 when she retired - gifts to a cleaner who worked for some of the prime ministers responsible for shaping modern Britain.
Elizabeth Clifton was sent thank-you notes from Winston Churchill's wife.
And she managed to hang on to two of the WWII prime minister's initialled, unsmoked cigars.
The finds are among a host of political artefacts hoarded by Ms Clifton and now up for auction on Saturday for around £1,000.
Little is known about the woman who worked in Downing Street from 1928 to 1947.
But enough was thought of her by the politicians whose rooms she cleaned that she received a note from Number 10 two years after retiring.
Enclosed with the letter was a late parting gift of £1.
"I hope you will be able to settle down comfortably in your retirement," wrote the Downing Street official.
Another note, on behalf of Mrs Churchill, comes with Christmas best wishes and five shillings - "a small gift for the trouble you have taken with my room".
Also among the prime ministerial memorabilia Ms Clifton hung on to were Christmas cards from Clement Attlee - the Labour leader in charge when she left.
Signed photographs from Conservative Stanley Baldwin and autographs from the first Labour prime minister Ramsay MacDonald sat alongside two packaged cigars bearing the initials "WSC" - Winston Spencer Churchill.
"We don't know whether the cigars were given to her or somehow fell into her possession," said auctioneer Simon Danciger.
The pair of iconic habanos were handed by Ms Clifton to her long-dead son and daughter-in-law Gladys - now 100-years-old.
Their last known whereabouts was the Portsmouth seaside resort of Southsea.
The lot - being sold at Barnes auctions in south-west London by a family friend - could fetch upwards of £1,200, Mr Danciger added.
"She hung onto them for years but didn't know their significance until she brought them to us."