Ex-MP Denis MacShane in court on expenses charges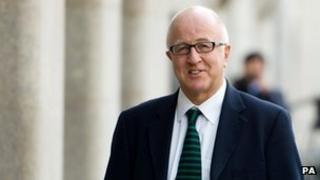 Former MP Denis MacShane has made a brief appearance in court in relation to charges he faces of false accounting over his parliamentary expenses.
The 65-year-old former Labour minister attended court in central London to confirm his identity.
He will return on 18 November, when he will be expected to enter a plea.
Mr MacShane resigned as an MP last November 2012 after a parliamentary committee said he had wrongfully claimed at least £7,500 in expenses.
At the Old Bailey, Mr Justice Sweeney told Mr MacShane a date had been set of 6 May next year for his trial to begin. The former MP was given unconditional bail this month.